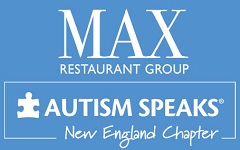 AUTISM SPEAKS, MAX LISTENS
Max Lights it up Blue – April 1, 2018
The MAX Restaurant Group, with eleven locations in Connecticut, Massachusetts, and Florida, is proud to partner once again with Autism Speaks, the nation's leading autism advocacy organization for another one day fundraising event. On Sunday, April 1st, MAX will be donating 10% of the day's sales to the Autism Speaks New England and Palm Beach County Chapters.
"After the success of these events for past two years, we are very happy to host this special fundraiser again on World Autism Awareness Day to help bring autism awareness and much-needed funds to our local communities", said Bobby Venetianer, Operations Manager for the Max Restaurant Group. This important cause will be highlighted through a company-wide campaign to bring people out for Sunday Brunch, lunch or dinner. Additional donations will be accepted and given directly to the charity from any of the locations in Connecticut, Massachusetts, and Florida. Mr. Venetianer adds: "Bring the family and friends and come enjoy a great day and help us raise a lot of money for a wonderful organization".
For more information, please contact Bobby Venetianer at bobbyv@mrgct.com. This event was his initiative and is very near and dear to him, as is son is on the Autism Spectrum.  Thank you in advance for your support.
About the Max Restaurant Group
Founded in 1986 by Richard Rosenthal, the Max Restaurant Group currently operates 11 successful, distinct, and independent restaurants in the Greater Hartford, CT/Springfield, MA areas and The Cooper in Palm Beach Gardens, FL. The company prides itself on its customer service and innovative approach in delivering the best dining experience possible and always put forth an uncompromising commitment to quality, service, style, and cuisine. To share in the experience, please visit us in our restaurants or at maxrestaurantgroup.com
About Autism Speaks
Autism Speaks is the world's leading autism science and advocacy organization. It is dedicated to funding research into the causes, prevention, treatments and a cure for autism; increasing awareness of autism spectrum disorders; and advocating for the needs of individuals with autism and their families. Autism Speaks was founded in February 2005 by Suzanne and Bob Wright, the grandparents of a child with autism. Since its inception, Autism Speaks has committed more than $570 million to its mission, the majority in science and medical research. On the global front, Autism Speaks has established partnerships in more than 70 countries on five continents to foster international research, services and awareness. To learn more about Autism Speaks, please visit AutismSpeaks.org.