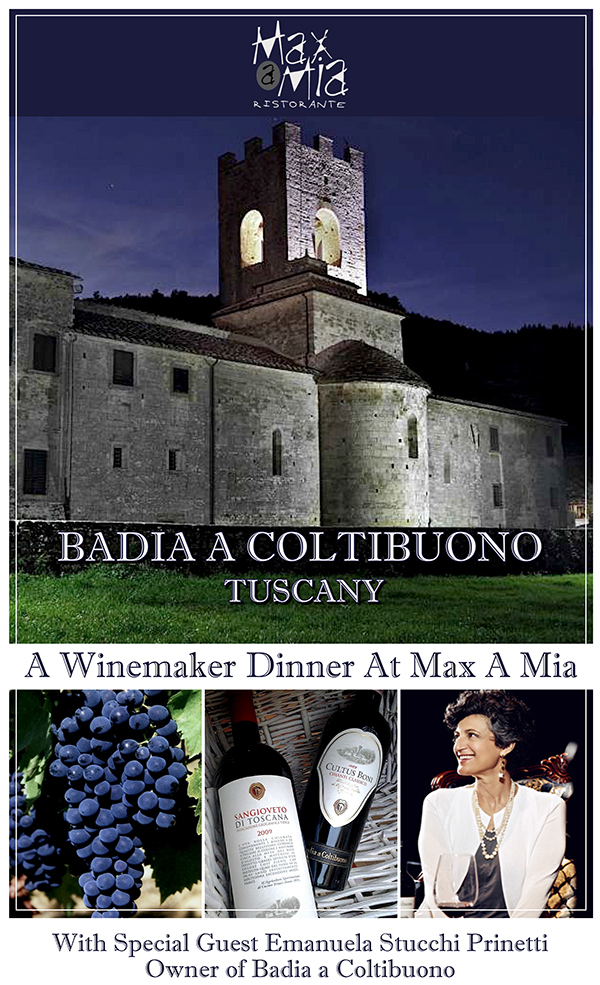 by Brian Mitchell, Corporate Beverage Director, Max Restaurant Group
I am very pleased to announce a fabulous opportunity to experience the wines from the famed Tuscan producer Badia a Coltibuono, which has been making wine since the Middle Ages. For over one hundred and fifty years the farm has been run by the Stucchi Prinetti family which cultivates organic grapes in the 100 acres of vineyard located in the heart of Chianti to produce Chianti Classico, the "Super Tuscan" Sangioveto and Vin Santo del Chianti.
Our special guest for the evening will be Emanuela Stucchi Prinetti, who along with her siblings owns and runs the winery.  We are very pleased to have her at Max a Mia to present her wines along with the cuisine of Executive Chef David Stickney, of Max a Mia.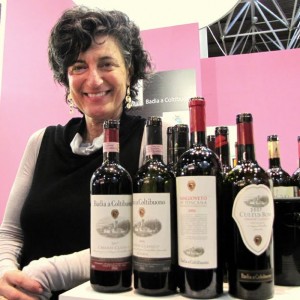 Max A Mia Presents
A WINEMAKER DINNER WITH THE HISTORIC TUSCAN ESTATE
BADIA A COLTIBUONO
With Special Guest Emanuela Stucchi Prinetti, Owner of Badia a Coltibuono
Monday August 25th, 2014
Reception at 6:15p
Grana Padano Mousse, Sweet Coppa, Crostini/
Porchetta Piccolo, Broccolini Peso
Badia A Coltibuono Chianti Classico, 2011
Seating at 6:45pm
I
Grilled Octopus, Charred Garlic Farm
Tomato-Chianti Pesto, Golden Raisins,
Marinated Calabrian Chile
Badia A Coltibuono Chianti Classico, 2010
Ii
Wood Fired Lamb Scotadito,
Cannellini Bean Puree, Oxen Hill Black Cherry
Tomato-Costa Romanesco Squash Ragu,
Badia A Coltibuono Sangioveto Di Toscana, 2009
Iii
Filettini Di Manzo Wellington, Semolina
Gnocchi, Flash Fried Zucchini Flowers,
Sauce Choron
Badia A Coltibuono Chianti Classico Riserva, 2008
Iv
Butterscotch Pots De Crème,
Mascarpone Mousse
Badia A Coltibuono Vin Santo Del Chianti Classico, 2007
$85 per person (not including tax & gratuity)
Please Call For Reservations
(860) 677-6299