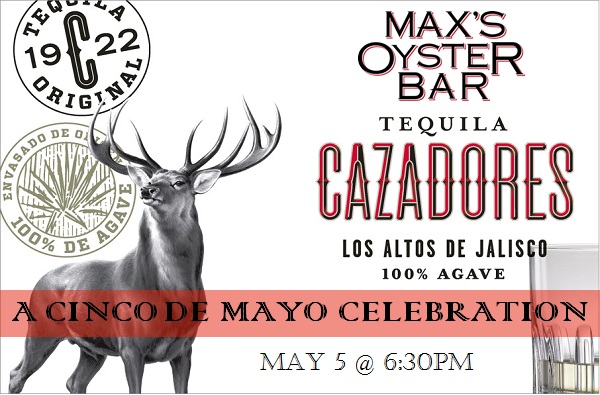 Max's Oyster Bar Is Pleased To Present:
A Cinco de Mayo Celebration
Featuring Tequila Cazadores
Special Guest Speaker
Nadine Gengras, Tequila Maven
Thursday | May 5 | 6:30pm
Please join us for a special "Cinco Celebration"
with a menu by Executive Chef Hunter Morton
and cocktails created by Mixologist Derek Vitale.
Tequila Cazadores. From the Highland region of Jalisco, Mexico,
where earthly elements align to produce the most perfect agave.
The climate yields sweet, strong and delicious plants.
Matured to perfection for at least seven years.
To learn more about Tequila Cazadores, please visit their website.
EL MENU
CUANDO TE SIENTAS
("When You Sit")
Bohemia | Original Lager
Snapper Ceviche
watermelon granita, cucumber gel, pineapple, chiluba caviar, corn tortilla
UNO
Cazadores Tequila Silver
Chili Paloma Side By Side with Mini-Shooter
Margarita's Shrimp Tamale
roasted tomato sauce
DOS
Cazadores Tequila Reposado
El Diablo Side By Side with Mini-Shooter
Taco el Pollo
confit chicken, grilled mexican onions, chele's death salsa
TRES
Cazadores Tequila Anejo
Oaxaca Old Fashioned Side by Side with Mini-Shooter
Chile Relleno
broad brook beef, poblano pepper,
oaxaca queso fresco, tequila-lime crema
EL POSTRE
("Dessert")
Cazadores Tequila Extra Anejo
Sipper
Tequila Tres Leches Cake
coconut, pineapple
~menu subject to change~
Dinner Followed By Live Music
$72.00 per person
(not including tax or gratuity)
Please call for reservations
860.236.6299