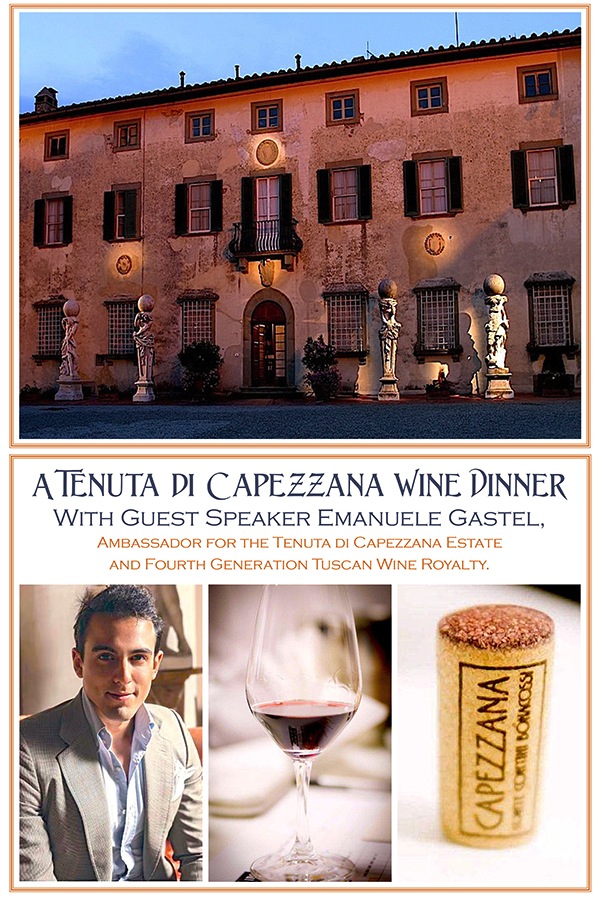 On March 17th at 6:30pm – both a  Monday and St Patrick's Day – we will be hosting a fabulous Italian wine dinner featuring wines from one of our favorite Tuscan estates, Tenuta di Capezzana. This event will be held at Max a Mia in Avon, and will showcase the excellent wines of the estate paired with very special menu created by executive chef David Stickney.
Emanuele Gastel
The New Generation of Tuscan Royalty
Ambassador for the Tenuta di Capezzana estate
For Emanuele Gastel, his nursery was the vineyards. Before heading to work, Gastel's mother would drop him off at the family winery when school was not in session, or with one of the local farm families if she had to travel on business. "I grew up among the vines" laughs Gastel. And what vines they were – among the most storied in Tuscany: Badia a Coltibuono in Chianti Classico. Owned by Gastel's maternal grandparents Piero Stucchi Prinetti and Lorenza de Medici, the "farm" is now managed by his mother and uncles.
Gastel's extended kin includes the Contini Bonacossi family, proprietors of Tenuta di Capezzana, the principal estate in Tuscany's Carmignano appellation. Officially, Gastel has worked as an ambassador for Capezzana since 2012, after graduating from Florence's prestigious Scuola di Scienze Aziendali with a Master's degree in Marketing, Business and Sales. Unofficially, he has been training for this job since birth. With three generations of winemakers ahead of him, Gastel represents the fourth generation of his family to find his calling in Tuscany's wine business. Charismatic and unpretentious, with a lively intelligence and keen sense of fun that sweeps up anyone its path, Gastel is thoroughly at ease in any setting.
While his academic schooling has deepened his technical and commercial expertise, Gastel values his informal education above all, having worked among the vines since he was old enough to walk. "I have missed very few vintages," he notes. Wherever he goes, Gastel makes an impression. During his student years, he was singled out for a new and highly competitive program developed by the Italian government with a view to developing the country's future generation of business leaders and entrepreneurs.
These days Gastel is on the road a great deal, traveling to the U.S. and Asia. His first trip to the U.S. followed high school, when he served an apprenticeship at DeMedici Imports in New Jersey, importers of various European luxury foods, but with a focus on Italian products. He later returned to the U.S. to intern with a leading New York City PR agency specializing in food and lifestyle as part of a work/study program.
Gastel is a born communicator, blending old-world charm with an actor's panache, sense of comedic timing and ability to entertain. Watch Gastel tell a story as he waits with mock seriousness to observe the effect of a punch line. If it doesn't produce quite enough laughter or the reaction he seeks, he will rework it. Gastel is well aware that in order to thrive amid an expanding and increasingly crowded marketplace, Tuscany's wines and agricultural legacy must be expertly promoted and he is passionate about doing just that.
Closer to home, this handsome Italian – arguably one of the best-dressed men in Florence – is taken. Gastel has a Swedish girlfriend, who keeps him rooted.
Please join us for what promises to be a very special evening featuring some fabulous wines and a true Tuscan.  Here is the menu…
reception
crostini misto
fegato/white bean & escarole/roasted beets & feta
castello di capezzana monna nera, igt 2011
50% sangiovese, 20% merlot, 10% cabernet, 10% syrah, 10% canaiolo
i
venison loin carpaccio, shaved kale,
port soaked bing cherries, smoked
paprika grissini
castello di capezzana monna nera, igt 2011
ii
chitarra spaghetti, san marzano
tomatoes, shishito peppers,
crumbled sheeps'
milk ricotta
castello di capezzana barco reale d.o.c. 2010
70% sangiovese, 20% cabernet sauvignon, 10% canaiolo
iii
smoked duck breast, pancetta, chive polenta
cake, cauliflower crema
castello di capezzana villa di capezzana d.o.c.g. 2008
80% sangiovese, 20% cabernet sauvigno
iv
oak grilled striplion, creamer potato arrancini,
tempura fried broccoli rabe, citrus pressed
evoo vinaigrette
castello di capezzana ghiaie della furba, igt 2007
60% cabernet sauvignon, 30% merlot, 10% syrah
v
pistachio semi freddo, bittersweet
chocolate ganache
vin santo riserva di carmignano 2006
Event price and other details will soon be posted.  Check back or call Max a Mia to book your reservations.