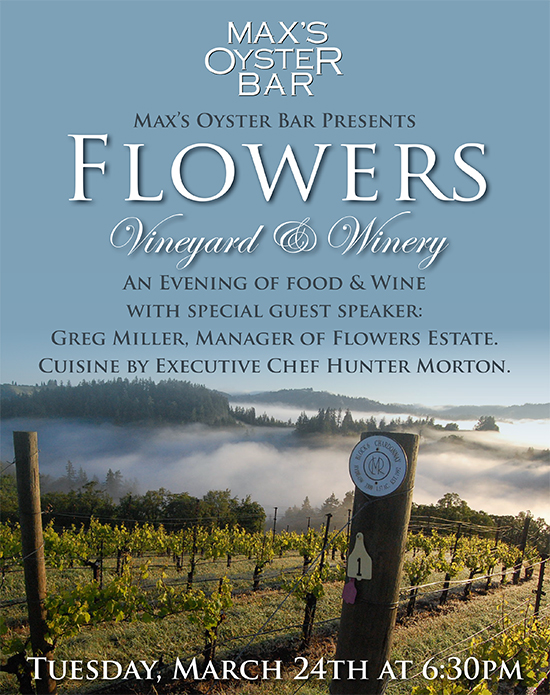 Since 1989, Walt and Joan Flowers have been crafting focused, elegant wines along the rugged Sonoma Coast region of northern California. With over 300 acres of land they have planted vineyard sites that take advantage of the cool climate and misty fog that rolls in from the Pacific nearly every day.  These wines have won high acclaim in the press and are sought after by collectors around the globe.
Max's Oyster Bar is very pleased to announce that we will be hosting a limited seating dinner with Flowers Estate manager Greg Miller.  This is a very rare occasion to taste the wines of Flowers and learn from some one who has an integral part in their production.
Dinner will be March 24th, at 6:30pm.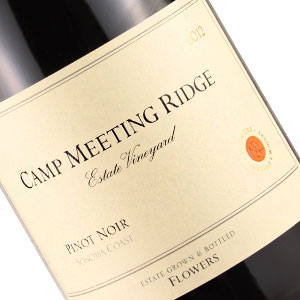 Menu and wines being served for the evening:
Amuse Bouche
First Course
Flowers Chardonnay Sonoma Coast 2013
Seafood Potato Salad
Smoked New Potatoes, Stonington Red Shrimp, Mussels, Crab, Osetra Caviar, Saffron Aioli
Second Course
Flowers Chardonnay Camp Meeting Ridge Vineyard 2012
Chili Lobster Texas Toast
Maine Lobster, Buttered Toast, Sriracha Chili Sauce
Third Course
Flowers Pinot Noir Seaview Ridge 2012
Grilled Fresh Rhode Island Calamari
Squid Ink Rigatoni, Chorizo, Cherry Peppers, Roasted Garlic, Parmesan Breadcrumbs, Extra Virgin Olive Oil
Fourth Course
Flowers Pinot Noir Camp Meeting Ridge Vineyard 2012
Sepe Farms Roasted Lamb
Toasted Orzo, Sundried Tomatoes, Lemon Confit, Olive Salt
Cheese
Flowers Perennial 2011
Cato Corners Drunken Hooligan
Roasted Dates, Bacon Powder, Honey Gastrique
  Price for the dinner will be $129.00 per person, not including tax or gratuity.
Reservations can be secured by calling Max's Oyster Bar:
964 FARMINGTON AVE.| WEST HARTFORD, CT 06107 | P: 860-236-6299