On Thursday September 11th, Max's Oyster Bar will host a delicious dinner, featuring the wines from Grupo Barón de Ley, based in Rioja, Spain.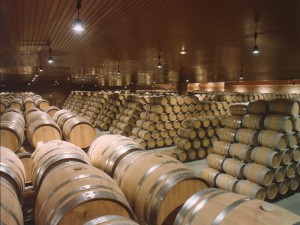 Featured guest speaker is Inigo Echavarri – Export Director for Grupo Barón de Ley.
With one of the most outstanding estates in the entire Rioja region, Barón de Ley is a leader in quality and innovation in wine production in Northern Spain.  Additionally, the control the El Coto Rioja line, which is one of the oldest of the region, as well as a winery in Cigales, Spain, also focused on outstanding wines based on Tempranillo, albeit in a more modern approach.  This dinner celebrates all of these various winemaking approaches as well as the fine cuisine of Spain.
Tapas
House Made Sangria
Crispy Shishito Peppers | Lemon Salt
Jamon Serrano | 18 month cure
Croquetas de Langosta | Lobster Roe Mayo
Acietunas | Marinated Olives
Black & White Anchovy | Toast | Ricotta
Tutura | Gratin of Artichoke
Course 1
El Coto Rioja Blanco, 2013
Grilled Spanish Octopus | Fava Beans | Pickled Celery | EVOO
Course 2
El Coto Rioja Crianza, 2010
Arroz Negro | Sea Urchin | Avocado | Local Squid
Course 3
Baron de Ley Graciano, Rioja, 2010
Brandade | Salt Cod | Baked Egg | Fire Roasted Peppers
Course 4
Museum Real Reserva, Cigales, 2009
Gambas | Head On Shrimp | Piquillo Puree | Sea Salt
Course 5
Coto de Imaz Rioja Gran Reserva, 2001
Buey a la brasa | 40 day Aged Ribeye | Romesco | Papas Bravas
Dessert
Sorbet de Limon y Cava
Flan | Sweet Corn | Aguaymanto | Plantains
$65 per person
not including tax & gratuity
Reservations Required. Please call 860.236.6299
Max's Oyster Bar | 964 Farmington Ave. | West Hartford, CT 06107
www.MaxsOysterBar.com

About Baron de Ley
Founded in 1985, Barón de Ley is a single-estate winery located in Rioja Baja focusing on high quality Reserva and Gran Reserva wines. Based on the "Château" concept, grapes are sourced exclusively from the property's estate vineyards. This is an innovative step in a region where wineries typically source grapes from independent growers throughout the area.
Barón de Ley's unique personality blends the best of old and new. Located on the grounds of a 16th century monastery on the east bank of the river Ebro in Mendavia, the estate covers 175 acres planted primarily to Tempranillo, and a small amount of Cabernet Sauvignon. Quality and attention to detail are an obsession at Barón de Ley, where the ancient architecture belies the latest winemaking equipment. A look inside the old monastery reveals immaculate and efficient facilities, housing high-tech temperature- controlled steel tanks, 10,000 new oak barrels, and a 5-million-bottle cellar.
In 2004, the winery purchased an additional 500 parcels of land, resulting in a 1,200-acre estate that will be planted with Tempranillo as well as Garnacha, Graciano and experimental varieties such as Maturana. This project is a strong testament to the estate's desire to continue to control all levels of winemaking, from vine to bottle.

About El Coto
El Coto de Rioja, located in Oyón, was founded in 1970 by a group of winemakers committed to creating a new type of Rioja. Its first bottling was released in 1975. Today, El Coto is the leading brand in Spain and among the top-selling Spanish wines in Europe.
Five hundred hectares of estate vineyards are located in La Rioja Alta's village of Cenicero, near the east bank of the Najerilla River, a tributary of the Ebro. Facing northwest, vineyard soils are mostly ferric clay, sand and limestone, which contribute structure, power and elegant minerality, respectively, to the wines. The recently incorporated Los Almendros estate, shared with Barón de Ley, adds an additional 300 hectares of vineyards to the impressive estate holdings. Additional grapes are sourced from 2,000 hectares in Rioja Alavesa. Here, limestone, clay and stony soils make aromatic, expressive wines with great finesse.
With the exception of "Coto Real" Reserva and "Coto de Imaz" Gran Reserva, all reds are aged in new American oak barrels, the classic Rioja marriage of wine and wood. Their seductive cigar box, spice and herbal aromas and silky red fruit flavors are the essence of fine traditional Rioja.

About Finca Museum
Cigales, is located just north of the Ribera del Duero in north-central Spain, is home to Finca Museum, which contains an astonishing 100+ acres of old vine Tinta del Pais (Tempranillo) averaging 60-to-100+ years old.
In the midst of a search for quality vineyards in neighboring Ribera del Duero in the late 1990's, the Grupo Barón de Ley stumbled onto the little known region of Cigales and its ancient vineyards laden with stone, baked by the hot sun and planted with naturally low yielding old vine Tinto del Pais. Grupo Barón de Ley knew immediately that its search was over.
Finca Museum now controls 1,200 acres of vineyards in the region with nearly half of which are over 50 years old. At average elevations of 2,300- 2,600 feet the soils are well draining alluvial with sand, poor organic earth, limestone, chalk, clay and an abundance of pebbles. The harsh and very dry continental climate has drastic day/night thermal variations, critical to developing phenolic ripeness and acidity in grape skins. These are growing conditions that produce grapes with superior balance and structure, resulting in wines of great vitality, complexity and longevity.