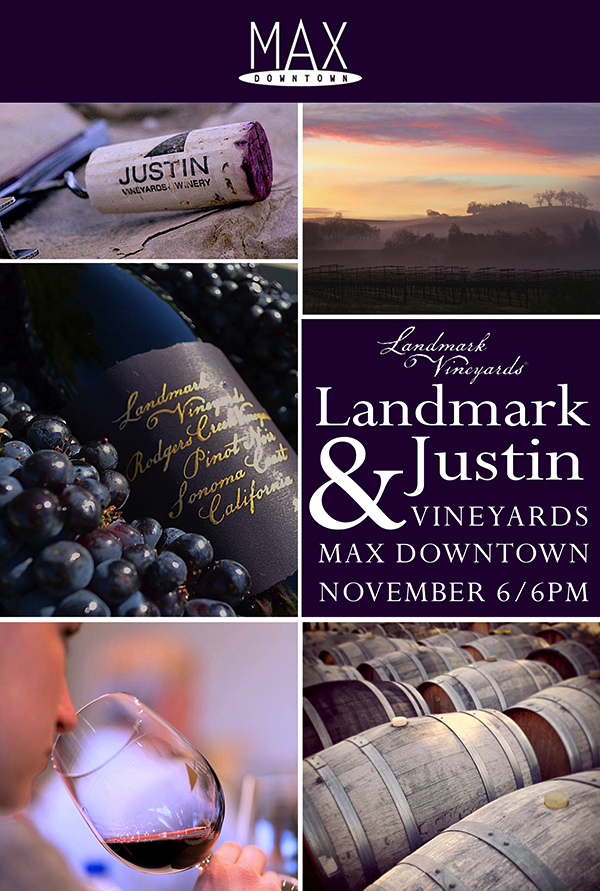 Max Downtown presents a very special event featuring 
The Wines of Landmark Vineyards & Justin Winery 
With Guest Speaker, Greg Stach, Winemaker, Landmark Vineyards
Landmark uses the most time and labor-intensive techniques to produce our wines. Grapes are aged in French oak barrels, where naturally occuring wild yeasts ferment the juice. This creates complex, aromatic wines with deep, expressive flavors. Rooted in a rich history of agriculture, Landmark Vineyards is founded by a group that includes Damaris Deere Ford, great-great-granddaughter of John Deere, inventor of the first steel plow.
With cuisine by Executive Chef Chris Sheehan
& wine pairings by Max Downtown Wine Director Justin Gavry
& Max Restaurant Group Beverage Director Brian Mitchell.

Greg Stach, Winemaker:  renowned for crafting elegant, world-class vintages. Stach's winemaking approach combines traditional techniques with a "less is more" philosophy. Believing that great wine begins in the vineyard, he intervenes only to ensure consistency and quality, relying more on the fruit's intense flavors and distinct vineyard characteristics.
For more information on Landmark Vineyards – Click Here
For more information on Justin Vineyards – Click Here
Thursday November 6th, 2014
6:00pm arrival, 6:30 seating
Reception
Passed Hor's Oeuvre's
Justin Sauvignon Blanc, 2012, Central Coast
1st Course
Hamachi Crudo
sticky rice, Colgan Farms chiles, yuzu soda pop, soy gelee
Landmark Chardonnay Overlook, 2012, Sonoma Coast
2nd Course
Chanterelle Mushroom Tortellini
pinot roasted cippolini onions, pecorino toscano, truffle sauce
Landmark Pinot Noir Overlook, 2012, Sonoma Coast
3rd Course
Breakfast For Dinner
maple glazed slow roasted bacon, fried quail egg, biscuit crumble, redeye gastrique
Landmark Grenache Steel Plow, 2012, Sonoma Valley
4th Course
Steak Frites
sous vide cote de bouef, duck fat frites, frisee lardon salad, horseradish béarnaise
Justin Vineyards Justification, 2011, Paso Robles
Dessert
Chocolate Coffee Palette, Hazelnut Gelato
Justin Vineyards Obtuse, 2011, Paso Robles
$99 per person (not including tax & gratuity)
Seating is limited to 30 guests.  Please make online reservations here.