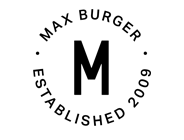 Max Burger


124 LaSalle Road
West Hartford, CT 061073

Phone: 860-232-3300

684 Bliss Rd.
Longmeadow, MA 01106

Phone: 413-798-0101
Max Burger seats on a first arrived basis and do not accept reservations. We do, however, have a call in list that usually reduces the wait once you arrive. Call us 30-45 min prior to departing and we will place your name on our list. Depending on the wait at the time, this will usually reduce the time you wait, once you check in at the host stand. Max Burger does not guarantee tables at specific times.