Max A Mia is very pleased to welcome Tim Snider, 
President of Fess Parker Winery from Santa Barbara
For a wine dinner featuring the wines of Fess Parker Winery
and cuisine by Chef David Stickney.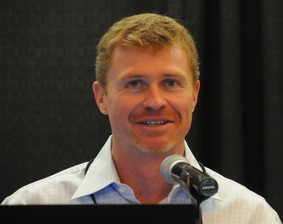 Monday May 4th
6:30 reception | 7:00pm seating
-Reception-
Royal red shrimp toast, pompelmo glaze/
Sicilian pistachio crusted goat cheese, saba/
Polenta fritella, apple butter
Fess Parker Riesling, Santa Barbara County, 2011
I
Mango wrapped Stonington sea scallop crudo "ravioli",
Parsley-meyer lemon vinaigrette
Fess Parker Chardonnay Ashley's, Sta. Rita Hills, 2013
II
Oak grilled lamb scottadito, red carnaroli,
green tomato-cherry fresca
Fess Parker Pinot Noir Parker Station, Santa Barbara, 2013
III
Bracciole, swiss chard, bing cherries,
Heirloom polenta, toybox cherry tomato ragu
Fess Parker Pinot Noir Clone 115, Sta. Rita Hills, 2012
IV
Cato Corner cheeses, elderberry jam, grissini
Fess Parker Big Easy Red, Santa Barabara, 2010
$89 per person
not including tax or gratuity
Please call Max A Mia for reservations
860-677-6299
70 East Main Street Avon, CT 06001
After a successful acting career, Fess Parker sought out and established his winery in the late 1980s, as a way to create a business to pass along to his children and future generations.  With an original 714 acres, he began by planting vines in 1989, in Santa Barbara County.  Today we have the happy occasion to sample his wines and present them for this fabulous dinner.  Tim Snider is President of the winery as well as husband to Fess' daughter Ashley.