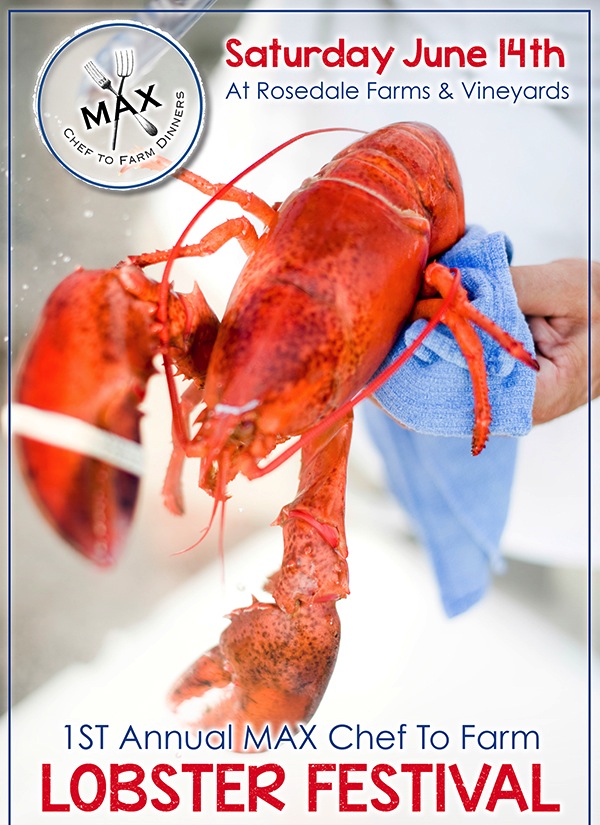 THIS EVENT IS SOLD OUT
Just in time for Father's Day ~ an event for the whole family!
Saturday, June 14th 4pm – 9pm
Rosedale Farms & Vineyards in Simsbury, CT
Activities For All Ages!
Featuring live music by Will Evans. Sample his music here.
Adult Dinner: Clam Chowder, Steamed Lobster, Connecticut
Clams, Local Chorizo Sausage, New Hartford Heirloom Potatoes,
Native (fingers crossed!) Corn on the Cob & Locally Grown Salad.
$55 per person
(Beverages, tax & gratuity not included)
Children's Dinner: Clam Chowder, Grilled Hot Dog or Hamburger,
Locally Grown Salad, French Fries and Lemonade
$10 per child
(Tax & gratuity not included)
Also featuring: $5 Local Craft Beer on Tap,
Oysters and Clams shucked to order for $2 each,
Rosedale Vineyards Wine, and Brewtus Maximus Summer Wheat,
A fresh and frothy, German-style summer beer produced
especially for The Max Restaurant Group; perfect for
warm weather drinking and dining.
To make reservations, visit us here.