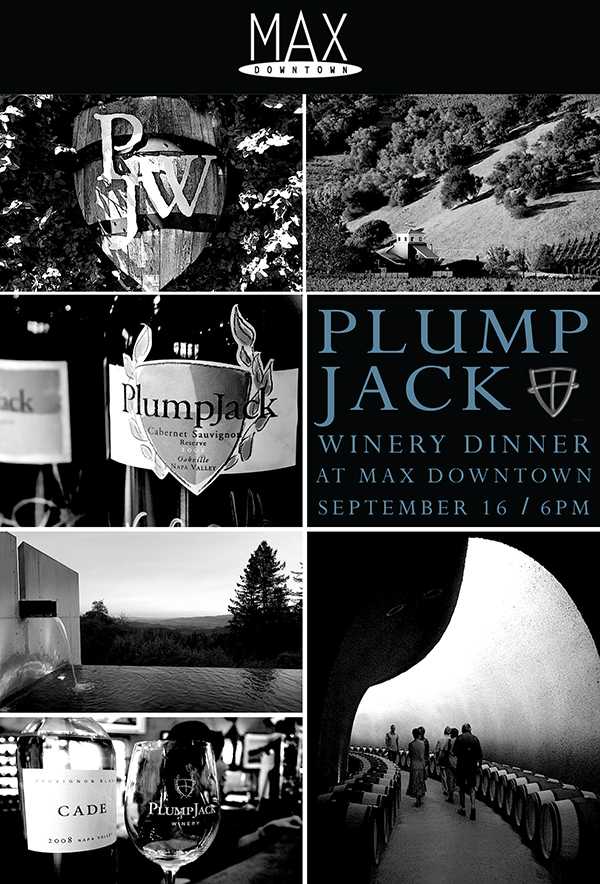 TUESDAY, SEPTEMBER 16TH, 2014 AT MAX DOWNTOWN
Experience the incomparable wines of PumpJack Winery
Cuisine by Executive Chef Hunter Morton
Wine pairings by Max Downtown Wine Director Justin Gavry
PlumpJack Winery sits squarely in the heart of Napa Valley's renowned Oakville
region, surrounded by a 42 acre estate vineyard highly regarded for the quality of
its Cabernet Sauvignon. Both the winery building and the vineyard date back to the
1800s, when winemaking pioneers first took advantage of a unique position on the
valley floor. From the oldest, rockiest section, the "I" Block where we source our
Cabernet Sauvignon Reserve, to more recent plantings, PlumpJack strives to
maintain balanced vines. Thanks to the full, expressive range of the estate,
our wines have become known for their intriguing complexity.
Guest Speaker: Scot Gaffney, Eastern Regional Sales Manager
for Plumpjack Estate and Cade Estate Wineries
Reception: 6:00pm – Dinner: 6:30pm
Reception
Passed hors d'oeuvres
CADE Sauvignon Blanc, 2013, Napa Valley
I
Ginger Lobster Dumplings
Starlight Gardens bok choy, sprouts, shishito peppers, bacon dashi
PlumpJack Chardonnay 2013, Napa Valley
II
Marwin Farms Duck Sausage Flatbread
figs, midnight moon cheese, candied onions, kale
PlumpJack Merlot, 2012, Napa Valley
III
Broccoli Pain Perdu
Iberico ham, cured egg yolk, Cato Corners Farm mornay sauce, brioche
PlumpJack Syrah, 2012, Napa Valley
IV
Roasted Porchetta
Rosedale Farms corn pudding, sungold tomatoes, local beans
CADE Howell Mountain Cabernet Sauvignon, 2010,
Howell Mountain – Napa Valley
V
Veal Roast Beef
potato fondant, chanterelle mushrooms, sweet breads,
glazed radishes, Gary's roasted garlic jus
PlumpJack Cabernet Sauvignon "McWilliams Oakville Estate",
2010/2011 comparison, Napa Valley
Petit Fours & Mignardises
$175 per person
not including tax & gratuity
Tickets can be purchased online here
18% gratuity and 6.35% CT State Sales Tax will be added during checkout.
Tickets will not be mailed. Your name will be on our reservation list.
For inquiries or information, please call: 860.522.2530
MaxDowntown.com