10/19/20 - Let Max do the Cooking
By Max Catering & Events
The best meals are the ones you don't have to worry about.
This Thanksgiving, let Max Catering & Events handle it all.
We'll provide the turkey and all the trimmings.
We have some new items this year, including wines and cocktails,
so relax, spend time with family, stay safe, and enjoy.
CLICK HERE FOR ALL THE INFORMATION
OR HERE TO ORDER ONLINE
www.maxrestaurantgroup.com/maxtogo
(
more
)
---
10/05/20 - $2 meatballs. Every Monday. All day long!
By Max Restaurant Group
(
more
)
---
07/14/20 - 13th Annual Tapas & Corn Dinner
By Max Restaurant Group
(
more
)
---
06/23/20 - City Dining on the Farm
By Max Restaurant Group
(
more
)
---
06/05/20 - News you can use
By Max Restaurant Group
For the latest information on Events at MAX, visit our BLOG.
MAX STEAKHOUSE DINNERS TO GO
TO VIEW OUR COOKING TIPS VIDEO,
PLEASE VISIT OUR YOUTUBE CHANNEL
---
---
(
more
)
---
05/07/20 - Special Menu Available
By The Cooper Craft Kitchen & Bar
CLICK HERE TO ORDER ONLINE
(
more
)
---
04/29/20 - Family Share Packs Available
By Max Restaurant Group
(photo by Cheyney Barrieau Photography)

MAX FISH & MAX'S OYSTER BAR
HAVE SOME GREAT FAMILY SHARE PACKS AVAILABLE TO GO

CALL TO PLACE YOUR ORDERS
Wednesday & Thursday : 12PM - 4PM

Max Fish : 860.652.3474
Max's Oyster Bar : 860.236.6299

PICK UP YOUR ORDERS
Friday & Saturday : 4PM to 8PM


CLICK BELOW TO VIEW THE MENUS

MAX FISH MENU

MAX'S OYSTER BAR MENU

(
more
)
---
04/23/20 - We're back!
By Max Restaurant Group
3 - 9 PM
No Contact Curbside Pickup in the back parking lot.
more
)
---
04/21/20 - Details on Take Out & Delivery Coming Soon
By Max Restaurant Group
Select Max locations will be offering special Mother's Day menus for take-out and delivery.
Details will be posted soon!
(
more
)
---
04/07/20 - Food by Max Catering & Events
By Max Restaurant Group
Looking for some food for the upcoming holidays?
Max Catering & Events has got you covered!
Ordering has closed!
For re-heating instructions for PASSOVER, click HERE
(
more
)
---
03/31/20 - All locations closed temporarily
By Max Restaurant Group
After much consideration, the Max Restaurant Group has made the difficult decision to temporarily close our restaurants, effective Tuesday, March 31, 2020. Although we have practiced increased efforts in sanitizing and cleaning, we feel that it is best to eliminate interactions with the public and with each other. We consider our guests and our employees as family and for the protection of all we feel it best to close our doors. We are fortunate to have been able to make this decision at a time that no one in the Max family has been exposed, diagnosed, or symptomatic with COVID-19
We are so very grateful for the hard work from our team to keep our restaurants going, and the incredible support that our guests have shown us during this crisis. We are devastated to have to put all of these relationships on hold until it is safe to reopen. Max Catering & Events, however, will continue to operate and offer catered meals to go for Passover and Easter.
All of us at the Max Restaurant Group are thankful to the community, many of whom purchased gift cards last week in support of our employees and are extremely grateful for that support . Those funds will provide much needed aid to our staff and their families through this crisis. Our team is anxious to get back to serving the community and to continue to offer uncompromising commitment to quality, service, style, and cuisine.
Thank you.
Richard B. Rosenthal
President/CEO
Max Restaurant Group
(
more
)
---
03/25/20 - Serves 4 people
By Max Restaurant Group
ORDER ONLINE
more
)
---
03/24/20 - Please support our Employees!
By Max Restaurant Group
(
more
)
---
03/09/20 - What we're doing about Coronavirus
By Max Restaurant Group
We take great pride in the work that goes into serving the 4,000,000 of you that come to our restaurants every year because you know that we care and because we take the work out of having an enjoyable meal. You don't need to think about how much fish to buy or how much soup to make nor do you have to look up a recipe for a salad dressing. It takes countless man hours and indescribable effort to always be prepared for you, yet here we are in 2020 taking our preparations for serving you to a whole new level as the threat of Coronavirus looms large dominating the news and the conscience of every one of us.
(
more
)
---
01/13/20 - Order now from DoorDash, Grubhub or UberEats
By Max Restaurant Group
Can't get to your favorite Max restaurant today? Get it delivered!
Click (more) for all the information
(
more
)
---
01/06/20 - Vote for Max!
By Max Restaurant Group
VOTE FOR MAX : THE BEST OF HARTFORD
Our restaurants are up for a few awards in Hartford Magazine.
We'd really appreciate your votes. Click HERE to vote. Thank you!
---
(
more
)
---
01/01/20 - Savoy News
By Savoy Pizzeria & Craft Bar
SAVOY PIZZERIA
2019 - Connecticut Magazine Readers Choice Awards.
BEST MEATBALLS - STATEWIDE WINNER
BEST PIZZA - STATEWIDE RUNNER-UP
---
Good Bites & Glass Pints showin' us some love!
https://www.goodbites-and-glasspints.com/single-post/2018/04/17/Savoy-Pizzeria-Craft-Bar
--------------------------------------------------------
DOWNLOAD OUR APP!
--------------------------------------------------------
| A Different Kind of Pizzeria - Hartford Courant/CTNow.com |
| Melissa B. "Best Pizza Dough Ever!" |
| Heidi N. "Bacon & Eggs Pizza was one of the most delicious things I have ever eaten. |
| We-ha.com "Don't Miss" (full review here) |
(
more
)
---
12/11/19 - News you can use
By Max Restaurant Group
---
---
---
Let Max do the cooking this Thanksgiving!
Orders due by Friday, November 22, 2019 @ 5pm.
---
(photo by Abel Santana)
Raise a glass! This month, Max Restaurant Group debuts Max Family Cuvee Reserve Chardonnay. The Sonoma County chardonnay is the latest wine to be released under the Max Family Cuvee label. To welcome the new addition to the family, all Max locations in Connecticut and Massachusetts will offer reduced prices on bottles of the wine.
The restaurant group launched into the wine business in 2007 with a Napa Valley red blend. The new chardonnay is French oaked with nuances of baking spices and is versatile enough to complement any dish.
"Max Family Cuvee Reserve is specially curated wine. We work with a partner winery to customize the flavor profile and style," said Brian Mitchell, Max Restaurant Group's wine and beverage director. "I take part in the production cycle, tasting barrel samples before the wines are finalized to ensure each vintage works with the cuisine across our various restaurants."
Wine down with a bottle of Max Family Cuvee Reserve Chardonnay today!
---
Max Chef to Farm : 2019 Season is here!
Tickets available now.
Visit the website for all the details!
---
Arrivederci Amore.
Max Amore to close after 25 years.
Read more HERE
---
CLICK HERE TO PURCHASE TICKETS
---
Derby-inspired food & drinks in the bar areas at
Max Downtown | Max's Oyster Bar | Max's Tavern
Best Hat Contests for the ladies at Downtown & Oyster
Call for information:
Max Downtown | 860.522.2530 | purchase tickets
Max's Oyster Bar | 860.236.6299
Max's Tavern | 413.746.6299
---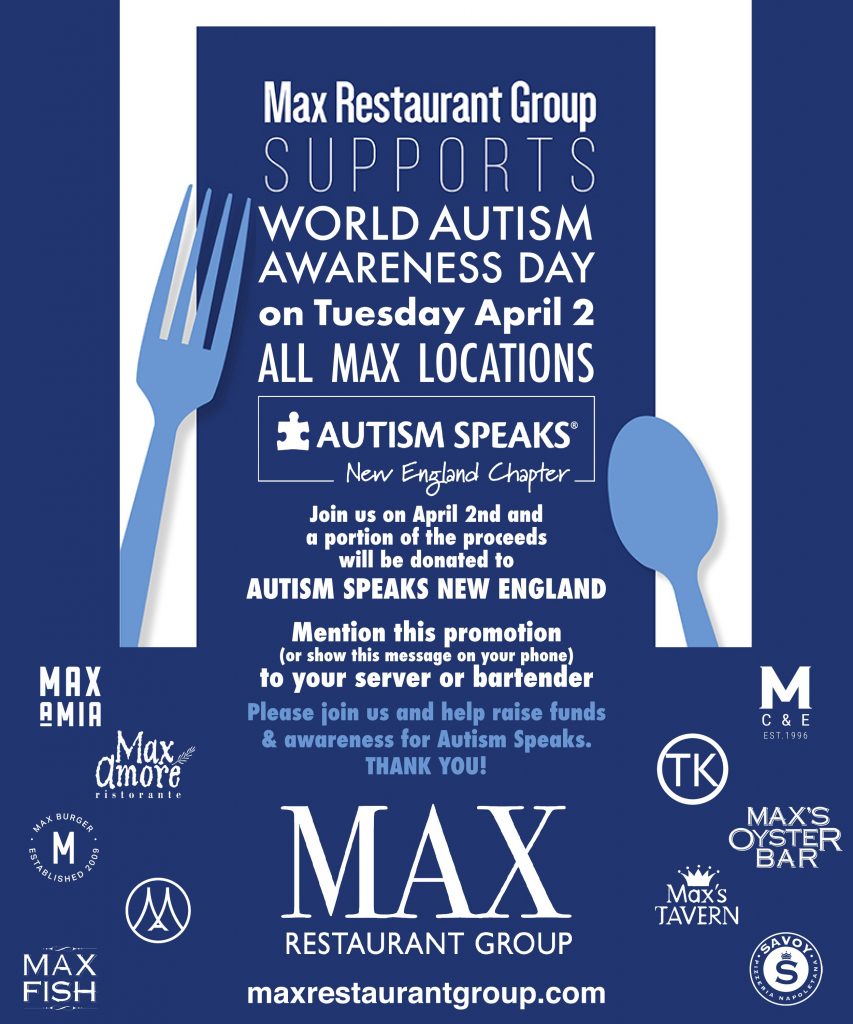 Dine for a Cause to Promote Autism Awareness at MAX
All 11 Max locations to increase awareness and raise money for Autism Speaks New England & Palm Beach County Chapters.
HARTFORD, CT – Compassion needs no words when you dine at a MAX restaurant for its fourth annual "Dine for a Cause" event. On Tuesday, April 2, dine at any of the 10 Max restaurants in Connecticut or Massachusetts or at The Cooper in Palm Beach Gardens, FL, in support of World Autism Awareness Day and to help those in our community who have Autism Spectrum Disorder.
During the one-day fundraiser, a portion of your bill will be donated to Autism Speaks. Guests are asked to mention the fundraiser to their server or bartender for proceeds to go to the charity. Additional donations will be accepted through Sunday, April 7.
This feel-good event goes beyond charitable giving, it's personal. Bobby Venetianer, Max Restaurant Group Director of Community Outreach, has a child on the spectrum. "Nearly everyone knows someone who has been touched by autism, whether it's a family member or a friend. We are proud to raise awareness and funds so individuals with autism, and their families, can achieve their best life", said Venetianer.
A bite at a Max Restaurant can help Autism Speaks' mission, which is to promote solutions and support. So, grab a seat and champion your neighbors in the autism community!
About the Max Restaurant Group
Founded in 1986 by Richard Rosenthal, the Max Restaurant Group currently operates 11 successful, distinct, and independent restaurants in the Greater Hartford, CT/Springfield, MA areas and The Cooper in Palm Beach Gardens, FL. The company prides itself on its customer service and innovative approach in delivering the best dining experience possible and always put forth an uncompromising commitment to quality, service, style, and cuisine. To share in the experience, please visit us in our restaurants or at maxrestaurantgroup.com
About Autism Speaks
Autism Speaks is the world's leading autism science and advocacy organization. It is dedicated to funding research into the causes, prevention, treatments and a cure for autism; increasing awareness of autism spectrum disorders; and advocating for the needs of individuals with autism and their families. Autism Speaks was founded in February 2005 by Suzanne and Bob Wright, the grandparents of a child with autism. Since its inception, Autism Speaks has committed more than $570 million to its mission, the majority in science and medical research. On the global front, Autism Speaks has established partnerships in more than 70 countries on five continents to foster international research, services and awareness. To learn more about Autism Speaks, please visit AutismSpeaks.org.
For more information, please contact Mr. Venetianer at bobbyv@mrgct.com
---
@ Max's Tavern
---
RECIPE ALERT!
As seen on Better Connecticut - 3/11/19
---
---
An Italian Wine & Food Pairing Dinner w/ Frescobaldi at Max Amore
Wednesday, March 20 @ 6:30pm
Click here for details.
---
MAX'S OYSTER BAR
closed for a few days while we build a new kitchen.
Will re-open for dinner on Thursday, March 7, 2019
Thank you for your understanding
---
DINE OUT CT
2/25-3/3/19
A week-long event hosted by the CT Restaurant Association to showcase and celebrate restaurants across the state. Funds raised during the event support the CT Hospitality Education Foundation, dedicated to the development of future restaurant industry leaders. Max Restaurant Group is honored to participate.
For menus, please visit the website of the Max restaurant at which you wish to dine.
---
As seen on Better Connecticut - Wed., February 6, 2019
Will You Be Mine?
A Valentine's Day Salad
(Serves 2 people)
Recipe by Chef Hunter Morton
INGREDIENTS
1 ea red beet- roasted, ¼ inch dice
1 ea chiogga beet- roasted, ¼ inch dice
1 ea blood orange, peeled and sliced
6 oz red watercress (green is fine)
3 oz goat cheese, rolled into small balls
2 oz pistachios, toasted and chopped
1 oz pomegranate seeds
3 oz pomegranate vinaigrette (recipe follows)
Pomegranate Vinaigrette
2 tbsp honey
¼ cup red wine vinegar
½ cup pomegranate juice
½ cup extra virgin olive oil
Salt and pepper to taste
Mix all liquids into honey, season with salt and pepper
METHOD
Mix all ingredients together and enjoy!
---
Savoy Cares
An on-going series of fundraisers for local West Hartford organizations.
The 2nd Tuesday of every month.
February benefits West Hartford Little League.
---
As seen on Better Connecticut – Monday, January 7, 2019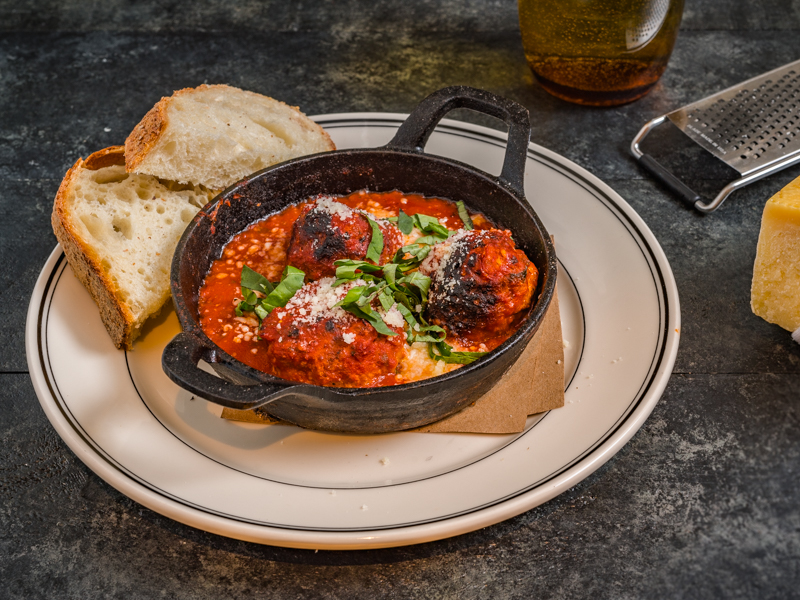 Savoy Pizzeria Veal & Pancetta Meatballs
BEST MEATBALLS – STATEWIDE
(as voted by readers of CT Magazine)
Yield : -12- 3 oz. meatballs
Recipe by Chef Hunter Morton
INGREDIENTS
1 lb. ground pork
1 lb ground veal
4 oz. diced pancetta
1 onion, diced
4 ea. garlic clove, chopped
2/3 cup parmesan cheese
2 ea. eggs
2 slices sourdough bread
½ cup milk
2 Tbsp salt
1 Tbsp red pepper flake
1 tsp black pepper
METHOD
Soak sourdough bread in milk for 10 minutes, squeeze out milk discard
Combine all ingredients in a mixing bowl, mix by hand, do not OVERMIX
Roll into 3 oz balls
Place on sheet tray
Chill for 30 minutes
Bake for 15 minutes till brown at 375Ëš
Simmer in your favorite tomato sauce for 20 minutes
Enjoy – but be careful…they're hot!
---
West Hartford Restaurant Week
January 7 - 20, 2019
---
---
---
---
---
CLICK HERE FOR MORE INFORMATION
==========================================
CLICK HERE TO PLACE YOUR ORDER!
======================================================
CT RESTAURANT WEEK
10/8 - 10/14/18
At all CT Max locations
Special prix-fixe menus available all week long!
Check it out!
==================================================
UPCOMING EVENTS
To see all events, visit out CALENDAR
==================================================
Max Culinary Director Hunter Morton is cookin' on TV
==================================================
R E C I P E
Max Belltown Hill Orchards Blueberry Salad
With Cornbread Crotons & Honey Lemon Vinaigrette
Yield 4 salads
By Chef Hunter Morton
INGREDIENTS
8 oz mixed greens (feel free to use spinach or arugula)
4 ears of fresh corn, grilled or boiled, removed from cob
4 oz ricotta cheese
1 cucumber, sliced- optional
1 pint cherry tomatoes, halved – optional
2 oz sunflower seeds, toasted
2 cups cornbread croutons (recipe below)
6 oz blueberry honey vinaigrette (recipe below)
1 cup fresh blueberries
Salt and Pepper
METHOD
Place greens, croutons, and dressing in bowl. Lightly toss, top with blueberries, charred corn, cucumbers, tomatoes, ricotta, sunflower seeds, enjoy!!
Cornbread Croutons
Cornbread- feel free to use a box cornbread or muffin mix just add 1 cup to small batch recipe
Chef Hunter Morton's Cornbread Recipe
Place cast iron skillet in 400-degree oven while preparing
1 ½ cup cornbread
1 cup all-purpose flour
¾ cup granulated sugar
1 ½ tbsp baking powder
2 eggs
1 ½ cup milk
1 tsp salt
¼ cup melted butter
Combine all dry ingredients in a bowl, crack eggs and whisk in separate bowl, make a "well" in dry ingredients place all wet ingredients in well, slowly mix in, should be nice and smooth, fold in blueberries, Pour into cast iron skillet. Bake 20 minutes or till toothpick comes out clean. Set aside to cool. Cut Cornbread in half dice into ½ inch croutons and place on sheet pan for 3 minutes. Use the other half to make friends.
Blueberry Honey Vinaigrette Dressing
½ cup blueberries
1/3 cup lemon juice
3 tbsp honey
½ cup olive oil
A pinch of salt
Combine blueberries lemon juice and honey in blender, slowly emulsify in oil, season
AS SEEN ON BETTER CONNECTICUT
7/16/18
===========================================================
(photo by Winter Caplanson | Connecticut Food & Farm)
CHEFS ON THE MOVE AT MAX RESTAURANT GROUP
A chef returns and the other is movin' on up
HARTFORD, CT - The MAX Restaurant Group, with eleven locations in Connecticut, Massachusetts, and Florida, is proud to announce the return of a former executive chef to the Max family and another long-time chef getting a well-deserved promotion.
Hunter Morton has been promoted to the newly created position of Culinary Director of the Max Restaurant Group. Hunter was most recently Executive Chef at Max's Oyster Bar in West Hartford, CT. Bob Peterson, formerly Executive Chef at Max Fish in Glastonbury, returns after a few years away from the Max group, to become the new Executive Chef at Max's Oyster Bar.
Mr. Morton is excited about this new opportunity within the Max Restaurant Group. "I look forward to working with all our chefs and helping them bring even more creative and fresh ideas to all our menus and ultimately to our guests", he says. In his new role, Mr. Morton will work with all the Max Executive Chefs to support their cooks and Chefs and help evolve their food and menu items. He will also oversee all of the dining aspects this summer during the 11th Annual Max Chef to Farm series of events. Scott Smith, VP/COO of the Max Restaurant Group says "We have toyed with the idea of having someone in this position for years but finding the 'right' person for the job was difficult; someone who is hard-working, understands our culture, makes great food and has the respect of our Chefs and the group. Hunter has met those qualifications during his thirteen years with the group".
Mr. Morton is passionate about cooking and has always been committed to giving back to the community. In 2010, he was one of the founding chefs at Growing Great Schools, a West Hartford non-profit which helped to introduce fresh, healthy lunch items and overall wellness into the public-school system. In addition, Hunter has spent time with students during annual school career days and conducted cooking classes at various schools. Since 2014, he has been involved with Journey Home, a non-profit in Hartford that works to end homelessness in Greater Hartford.
Bob is happy to return to the Max group and take the reins at Max's Oyster Bar. His expertise and creativity will help maintain the culinary standards that the restaurant has cultivated over the years and continue to keep it as the "Best Seafood Restaurant", as voted in a number of recent local polls.
For more information, please contact Bob Venetianer at bobbyv@mrgct.com
=============================================================
Max Restaurant Group : The Best of Hartford
Hartford Magazine's Best of 2018
WINNER
Best Overall Restaurant - Max Downtown
Business Entertaining - Max Downtown
Power Lunch Spot - Max Downtown
Wine List in a Restaurant - Max Downtown
Best Bartender (Scott Burns) - Max Downtown
Happy Hour - Max Fish
Best Seafood - Max's Oyster Bar
Best Place to Get a Burger - Max Burger
1st Runner Up
Best Place to Get a Pizza - Savoy Pizzeria & Craft Bar
Best Seafood - Max Fish
Special Occasion Restaurant - Max Downtown
Best Waitstaff - Max Downtown
Thank you to all who voted!
===================================================
(
more
)
---
07/18/19 - Events
By Max Restaurant Group
INFORMATION ON ALL EVENTS AT
MAX RESTAURANT GROUP ARE AVAILABLE ON
OUR CALENDAR
(
more
)
---
07/18/19 - Max Downtown Restaurant Spotlight in Wine Spectator Magazine
By Max Restaurant Group
A longtime local go-to for superior wine and food, Max Downtown
opened in Connecticut's capital city in 1996.
more
)
---
07/01/19 - $29.95 special at Max Fish & Max's Oyster Bar
By Max Restaurant Group
(
more
)
---
01/26/17 - Pizza is Life
By Max Restaurant Group
From Connecticut Magazine - January 2017
Savoy Pizzeria & Craft Bar, the sleek, new, pizza-centered West Hartford establishment from Max Restaurant Group, is all about the flames.
Click here to read the full article.
From Benn Breaks Bread - 12/17/16
8 Loaves!
From We-Ha.com
The Max Restaurant Group gained its 11th distinct restaurant with the opening Oct. 20, 2016, of Savoy Pizzeria and Craft Bar in West Hartford Center.
From WHSquared
Crafting masterpieces... full article here
Posted on the Faith Middleton Food Schmooze Facebook Page
Savoy Road Show pops up at Little River Restoratives for a craft cocktail artisanal wood fired pizza extravaganza! With their shiny copper clad portable pizza oven, Savoy Road Show churned out the most delicious Neapolitan pizzas I've had in ages. The thin crust was perfectly charred and the artisanal meats and cheeses were so flavorful and delicious. We paired our pizzas, "Franklin Avenue Freeze Out" and "Rico Rabe", with Little River Restoratives's expertly prepared hand crafted cocktails that honestly couldn't have been any better! And to top it off, the joint was packed with the coolest most authentic crowd! Hats off to LRR and Savoy Road Show for turning this little block of Hartford into an urban hotspot last night.
-Alex Province
(
more
)
---
06/17/16 - As seen on Fox 61
By Max Restaurant Group
Herb Grilled Lobster
Recipe By Chef Hunter Morton
2 each 1 ½ lb. Lobsters
¼ cup olive oil
Garlic Butter
8 Tbsp. soft butter
1/4 cup spring garlic, chopped fine
1 Tbsp. parsley, chopped
1 Tbsp. tarragon, chopped
1 Tbsp. chives, chopped
1 each lemon, zested
1 Tbsp. old bay
Heat Grill for 12 Minutes
Combine all garlic butter ingredients together in bowl and chill.
Split Lobster in half lengthwise, remove tomalley (the green stuff inside), crack claws
Drizzle lobster with oil, season with salt & pepper
Place lobster on hottest part of grill cut side down
Cook for 3- 4 minutes
Flip Lobster over, top with some of lemon-garlic butter
Grill for 5 additional minutes, and then remove from grill, top with more lemon-garlic butter
Serve Hot.
Enjoy!
Smoky Brown's Harvest Asparagus
1 lb. asparagus, trimmed
¼ cup mayonnaise
1/8 cup extra virgin olive oil
3 Tbsp. lemon Juice
1 garlic clove, crushed
1 Tbsp. smoked Paprika
1 Tbsp. cumin powder
2 Tbsp salt
Whisk oil into mayonnaise; add lemon juice, paprika, cumin, salt
Add asparagus, let sit 30 minutes
Grill asparagus over moderate heat for 5 minutes, turning as needed.
Asparagus should char and blister
Remove from grill. Season if needed
Chipotle BBQ Glazed Rosedale Squash
3 medium zucchini cut in half
3 medium yellow squash cut in half
Chipotle BBQ Sauce
½ cup ketchup
¼ cup chipotle peppers, puréed
¼ cup Worcestershire sauce
3 Tbsp. brown sugar
3 Tbsp. molasses
3 Tbsp. cider vinegar
3 Tbsp. lemon juice
1 Tbsp. dijon mustard
2 tsp. salt
1 tsp. pepper
Combine all ingredients
Place squash in BBQ sauce let sit 10 minutes
Place squash on hot spot on grill
Turn after 2 minutes, brush on more sauce
Cook another 3 minutes, turning as needed
Serve hot
(
more
)
---
08/28/15 - Read about Rich in Bentley Mag
By Max Restaurant Group
Click here to read the full article.
(
more
)
---
10/30/14 - November brunch proceeds to benefit the Palm Beach County Food Bank
By The Cooper
Chef Adam Brown has announced that "Sunday Funday" is about to get really appetizing with the launch of a new brunch menu. Available every Sunday from 11 a.m. to 3 p.m., the rustic, let's-try-it-all menu caters to hungry foodies who enjoy spending time with family and friends over a good meal.
(
more
)
---
08/12/13 - Max's Tavern Featured on Phantom Gourmet
By Max Restaurant Group
Max's Tavern Featured on Phantom Gourmet on Saturday, August 11, 2013.
(
more
)
---
07/19/13 - Guest Bartender Night at Trumbull Kitchen Raises Excitement and Funding for Hartford's Camp Courant 2013 Buddy Bash
By Max Restaurant Group
A packed Trumbull Kitchen was the scene on a steamy July night for a wonderful evening in celebration of Hartford. Stephen King, Justin Beiber, and a fireworks celebration were not even the headline event, as special guests flocked to the downtown location in support of Hartford's Camp Courant. The team from Fox CT continued is fantastic history of giving to the youth organization by taking part in a 'Guest Bartender Night' raising much needed funding for Hartford's youth. The doors of Trumbull Kitchen were opened as a result of the continued kindness and generosity of Max Restaurant Group President Rich Rosenthal. Rosenthal, who always has made the community of Hartford and its children a priority, once again will be a major contributing force behind the upcoming annual Camp celebration known as Buddy Bash. Jimmy Altman, Erika Arias, Logan Byrnes, Rich Coppola, Ray Dunaway (WTIC AM 1080), and Joe Furey provided guests with a variety of cool libations in an effort to support the oldest and largest FREE summer program currently in the United States. More than $1100 was raised in less than two hours which Hartford's Camp Courant will use to continue its ongoing work in making a difference for Hartford's kids. Located in Farmington, it has been Hartford's Camp Courant mission since 1894 to provide a FREE summer sanctuary where children can develop positive relationships, learn, and most importantly, have fun.
(
more
)
---
11/01/12 - Our Hartford and W. Hartford restaurants feature desserts made with locally grown apples
By Max Restaurant Group
This weekend, November 2, 3, & 4, four Max restaurants will be featuring dessert made with locally-grown apples to raise money for Growing Great Schools (GGS).
(
more
)
---
09/28/12 - Max Burger Graces the cover of Hartford Magazine
By Max Restaurant Group
Max Burger graces the cover of Hartford Magazine
The "Kobe Fun" guy burger lands on the cover of the latest issue of Hartford Magazine in their story highlighting the best burgers and brews in the Hartford area.
(
more
)
---
07/09/12 - One of the Top 5 "fabulous farm dinners" in the US.
By Max Restaurant Group
Max Restaurant Group is thrilled to be nationally recognized by Fodor's Travel Guide for our Chef to Farm Dinners.
(
more
)
---
04/27/12 - Conservationist, Environmentalist and Migratory Songbird Enthusiast Michael Corcoran to receive the 2012 Environmental Excellence Award
By Max Restaurant Group
Max Restaurant Group salutes Michael Corcoran, who has worked for many years at Max Amore, for this distinguished award. He is set to receive this award on Saturday, April 28th, 2012 at the Earth Fair at the Connecticut Audobon Society Center at Glastonbury.
(
more
)
---
04/08/12 - "Terrific", "Max impresses".
By Max Restaurant Group
From the Sunday New York Times (4.8.12)
http://www.nytimes.com/2012/04/08/nyregion/a-review-of-max-downtown-restaurant-in-hartford.html?_r=1&pagewanted=all%3Fsrc%3Dtp&smid=fb-share
(
more
)
---
07/07/10 - Dining at a farm is more than a magical experience; it cultivates the local-sustainable food movement.
By Elizabeth Keyser
Click here for the full story.
(
more
)
---
12/07/09 - Chef Morton's Potato and Sweet Potato Latke Recipes!
By Hunter Morton, Executive Chef, Max Downtown
.
(
more
)
---