---
Executive Chef
David Stickney
David Stickney grew up in Burlington, CT, spending a lot of his early years fishing and hunting. It turns out that was his initial connection with food. "When I was a kid", he says, "I used to try to get out of weekend chores outside so that I could watch Jacques Pepin and the rest of the Saturday cooking shows with my mother. Even as a child I saw his fluidity, gracefulness and economy of movement around a kitchen and the work it took to make any given dish and it was absolutely fascinating to me." His favorite night of the week was when he got to go to the grocery store, pick out ingredients, and make dinner for everyone.
As a teenager, his first experience in the hospitality business was when his mother began a catering business out of their home. Both in cooking and serving the food, he learned that "food is much more than eating and, in this business, we are creating an experience and memories for people". With his interest piqued, he sought a job in a "real" kitchen, not his mother's. He soon found a dishwasher job at Ristorante Italia in Avon, CT, which quickly led to an apprenticeship that taught him that hospitality was learned in a restaurant, not in a classroom. David was taught the fundamentals of cooking, baking and serving and within a couple years he was named Sous Chef.
Shortly thereafter, he traveled all across the country to find a place to start his professional culinary career. In San Francisco, he was lucky to stage at Michelin Star Restaurant Gary Danko. "In Chef Danko's kitchen, I saw what the term "dining experience" truly meant", Stickney says. He then went off to Florida to learn other aspect of hospitality, including a stint at the Don Cesar in St Petersburg and the Sand Key Resort in Sand Key Florida. He returned to CT in 2006 and quickly got a job at the Max Restaurant Group as a line cook at Max Amore. He was quickly promoted to Sous Chef and eventually Chef de Cuisine. A few years later, the opportunity to lead the kitchen as the executive chef at Max a Mia in Avon opened up and he was thrilled to take the helm. He left in 2015 to pursue other opportunities, including the opportunity to be the opening chef/consultant at The North House in Avon and then as the executive chef job at the extremely popular Cheshire restaurant, Osteria Viron Rondo.
In late 2017, he made a triumphant return to Max as Executive Chef at Max Amore and has given the restaurant a new sense of excitement with the creative menu changes he's made to the landmark Glastonbury restaurant, with a modern take on classic Northern Italian "cucina". David currently lives as a single father of two great kids in Collinsville and is excited about what the future brings.
BACK
Careers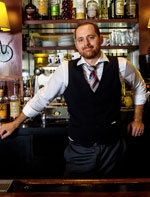 The Max Restaurant Group is always looking to expand our team. We offer competitive wages, a generous benefits package, flexible hours and the opportunity to grow with the company. Join the most respected restaurant group in Southern New England and you will have the opportunity to experience and learn the hospitality industry from visionary Chefs and seasoned Restaurant Managers. The Max Restaurant Group is an equal opportunity employer.
Please e-mail your resume and cover letter to us at jobs@maxrestaurantgroup.com.