By Brian Mitchell, Max Restaurant Group Beverage Director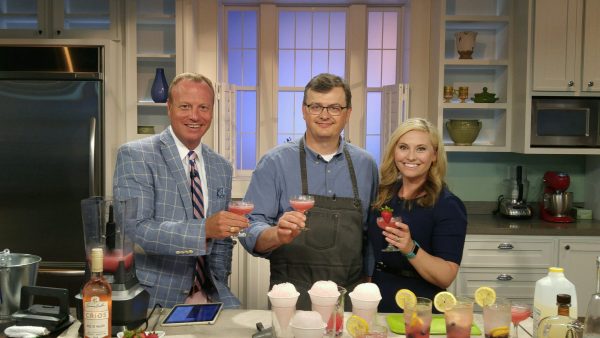 This morning I appeared on the taping of Better Connecticut, on Channel WFSB 3 in Hartford. They had a special request to get a demo of the immediately popular Fosé Cocktail, which has popped up everywhere this summer.  They also asked for a couple other summer drink options to check out as well.
The Frosé can kind of be made in two different ways – 1 as a simply wine blended with ice, or a bit closer to a cocktail construction where we add flavors such as strawberry and lemon and keep a sense of wine and fruit in the drink.  With the first option, while simple, it tends to water down the "wine" aspect of the drink as the ice melts, therefore you get less impact of flavor.  With the second method it takes a little planning ahead but the results are definitely tasty.
For the first method, you simply add your bottle of rosé wine the equal amounts of ice in a blender and blend until the ice is crushed and incorporated. Add to the glass and garnish as desired. Quick, easy and cold.
For the Frosé where we are making more of a cocktail style, here is what you do…
Strawberry Summer Frosé
Ingredients:
1 x 750 ml bottle hearty, bold rosé (such as a Pinot Noir, Malbec or Merlot rosé)
Strawberry syrup – ½ cup sugar infused with 8 ounces strawberries
• 2½ ounces fresh lemon juice
Preparation
1 750ml bottle of rosé frozen (but not in the original bottle – need to move to a flexible container such as a plastic bag, ice tray or open top pan so the expanding ice will not burst the glass)
This will take about 6 hours, but will not be completely frozen as alcohol has a very low freezing point
Bring sugar and ½ cup water to a boil in a medium saucepan; cook, stirring constantly, until sugar dissolves, about 3 minutes. Add strawberries, remove from heat, and let sit 30 minutes to infuse syrup with strawberry flavor. Strain through a fine-mesh sieve into a small bowl (do not press on solids); cover and chill until cold, about 30 minutes.
Put frozen rosé into a blender.
Add lemon juice, 3½ ounces strawberry syrup, and 1 cup crushed ice and purée until smooth.
Transfer back to the freezer and freeze until frosé is thickened (aim for milkshake consistency), 30 minutes.
To serve, blend again until Frosé is slushy.
Serve in coupe glasses and garnish with a strawberry.
Other Summer Drinks:
Local Lemonade (Blueberry Version)
Ingredients:
10 fresh blueberries
1oz Vodka
1oz Whiskey
¾ oz Agave Syrup (1:1)
6oz Fresh Lemonade
Glass – 16oz Tumbler
Garnish – lemon wheel
Preparation
Add blueberries to glass and gently muddle
Add vodka, whiskey and agave, fill with ice, top with lemonade and garnish
Watermelon Crush (Snow Cone)
Ingredients:
Watermelon Juice – Depending on how much you want to make, juice some watermelon, but save the solids to infuse into the vodka for a few days.
Watermelon infused vodka
Basil Syrup and Lemon Juice
For single drinks – the ratio is about 3oz infused vodka, 3oz watermelon juice, 1oz lemon juice and 1/2oz basil syrup to flavor
This can be served in a mason jar over ice, garnish with a wedge of watermelon
For batches and the snow cones – juice the watermelon to make the base, then use the watermelon pulp to infuse the vodka for extra flavor, mix all and serve over crushed ice in a snow cone cup. A Straw helps.
Ihr Top aktuelle Angebote, Rabatte und Aktionen : aldi süd prospekt, rewe prospekt, saturn prospekt, media-markt prospekt, toom baumarkt prospekt