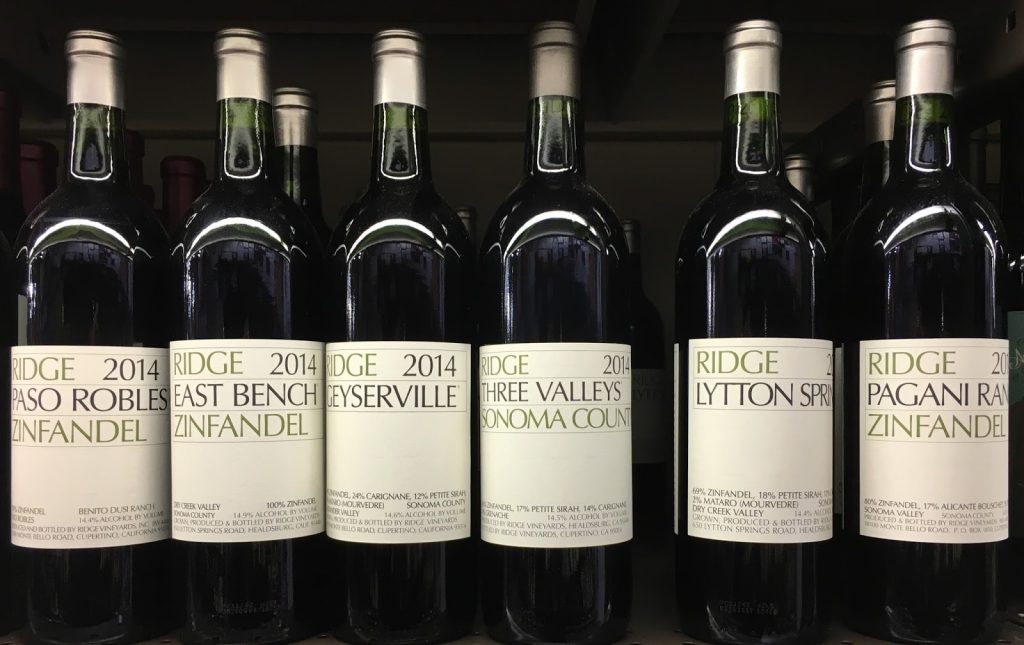 Last year we asked the question, "Does Ridge matter?" And with a resounding YES, we featured the new releases and some very special cellar wines from Ridge Vineyards in a delightful tasting and dinner combination. The format was enjoyed so much we are hosting the tasting and dinner once again.
In today's wine world there are many choices.  Since the late 1950s, Ridge Vineyards has been making extraordinary wines in a natural and traditional manner, something many winemakers left but have come back to.  The wines by Ridge Vineyards are different, they are full of flavor, flavor of the land from which they are grown and produced.  This is something that can be lost by younger winemakers, but with the guiding hand of Paul Draper since 1969, Ridge is still more relevant today, than perhaps it has been at any time in its many years. Max Downtown is very pleased to preset
a fabulous tasting & pairing dinner Highlighting the Spring 2018 releases from Ridge Vineyards.
RIDGE VINEYARDS
Wines That Matter
Spring 2018 Release Tasting & Pairing Dinner
April 5th
6:15pm New Vintage Sampling & Reception | 7:00pm Dinner Seating
Menu by Chef Chris Sheehan
Presentation by Brian Mitchell
Tasting and Reception
New Spring Releases from Ridge Vineyards, including:
Estate Chardonnay 2016
Estate Cabernet Sauvignon 2015
Geyserville 2016
East Bench Zinfandel 2016
Paso Robles Zinfandel 2016
Passed Hors d'Oeuvres and Charcuterie
Pairing Dinner
Course 1
RIDGE ESTATE CHARDONNAY 2016
Tuna Toro
Bergamot, Wild Ginger, Smoked Shoyu
Course 2
RIDGE MONTE THREE VALLEYS ZINFANDEL 2015
Sheep's Milk Gnudi
Morel Mushrooms, English Peas, Ramp Butter
Course 3
RIDGE ESTATE CABERNET SAUVIGNON 2015
Creekstone Farm Lardo Wrapped Fillet
Smoked Carrots, Spicy Greens, Spring Garlic Salsa Verde
Dessert
RIDGE GEYSERVILLE 2007
Chocolate & Macadamia Terrine
Coconut, Lime, Passion Fruit
$125 Per Person
(Not Including Tax or Gratuity)
Please Call Max Downtown for Reservations
(860) 522-2530
185 Asylum St, Hartford, CT 06103