With Derby Day upon us, I thought I would take a moment to discuss the history of a category of drinks that are popular this time of year, namely the SMASH, of which a Julep is one variation.  Traditionally a smash would have been a drink with ample crushed ice, mint, a strong base such as whiskey, and some fruit for added sweetness.   The Mint Julep first appeared sometime around 1800 (or maybe earlier), and was a drink that was one of a number of variations on the smash theme.  In fact, these drinks may not have always included Bourbon, but any spirit such as brandy or rum.  Along the way the smash and the julep parted ways so that now the smash is relatively unknown and juleps are mainly known for the minted styles.  The little problem is that juleps are really only thought of around this time of year as they have been associated with the Kentucky Derby since 1938, when Churchill Down's began selling it as a signature drink in a souvenir cup – it sold for $.75 a drink.  Today, the Kentucky Derby serves more than 80,000 juleps over the two-day event. At Max's, by making the most of quality fresh ingredients, plus mint, which almost everyone can enjoy, we can offer a quick, delicious and refreshing warm weather drink option that can be enjoyed anytime of the year, not just the first Saturday in May.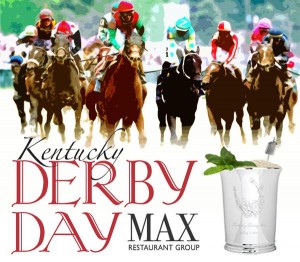 This year,
three Max locations will be featuring the Mint Julep as part of Derby Day specials
.  Max Downtown (Hartford), Max's Oyster Bar (West Hartford) and Max's Tavern (Springfield) will each be hosting Derby Parties for those who love the races and want a touch of Southern refreshment while watching the races.
For the perfect Mint Julep you will need some fresh mint, crushed ice, a good bourbon (Woodford Reserve or Wild Turkey are suggested), and some simple syrup.  A julep cup is classic for this drink as it holds the coldness from the ice very well and gets all frosty when you stir the drink.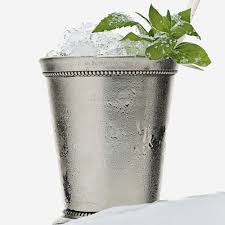 2 oz. Bourbon of choice
1 oz. Simple Syrup
1 Fistful of Mint
Muddle the mint in the simple syrup in your julep cup or a regular low-ball glass, add bourbon, fill with crushed ice and stir till the outside of the cup/glass get frosty.  Garnish with a 'spanked' mint sprig.
The simple syrup can be made with plain sugar (2:1 water to sugar ratio), or can be made as a mint syrup (just simmer some fresh mint in the water for 15 minutes before straining and adding the sugar).