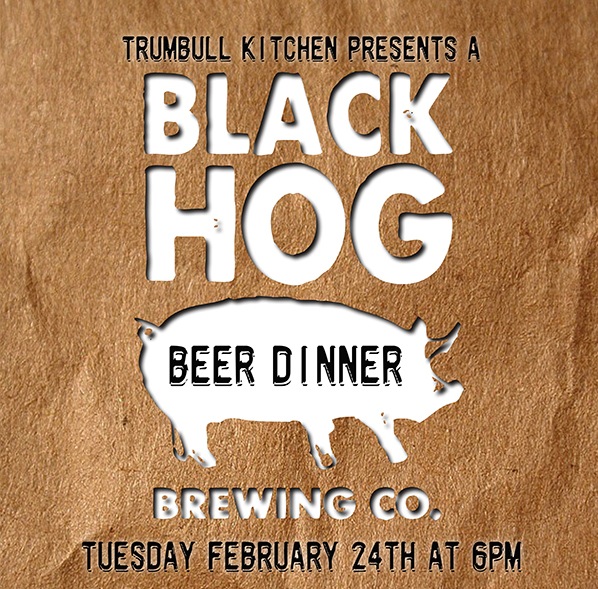 SOLD OUT – SECOND NIGHT ADDED – TUESDAY, FEBRUARY 24TH
Since hitting the Connecticut brewing scene just a year ago, Black Hog of Oxford, CT
has quickly established itself as one of the leading craft brewers in the state.
We are pleased to welcome Special Guest speaker:
Tyler Jones, Head Brewer, Black Hog Brewing Co.
Cuisine by Executive Chef Christopher Torla.
Menu
"Duck Nachos"
Leg Confit, pickled shitake mushrooms, wasabi, peanut sesame soy
Black Hog Ginga Ninja
Moules Mariniere
Canadian mussels, shallots, tomato, saffron vin blanc
Black Hog Easy Rye Da
Crispy Macaroni
Chorizo, leeks, Benning's goat milk gouda, chipotle
Black Hog Granola Brown
Pastrami Cured Short Rib
Brandied mustard seeds, red cabbage puree, horseradish creme fraiche
Black Hog Bacchanalian Barley Wine
Bananas Foster Bread Pudding
Chantilly cream, espresso butterscotch
Black Hog Nitro Coffee Milk Stout
$65 per person
not including tax & gratuity
Please call for reservations: 860.493.7412
Trumbull Kitchen 150 Trumbull St. Hartford, CT
Ihr Top aktuelle Angebote, Rabatte und Aktionen : aldi süd prospekt, rewe prospekt, saturn prospekt, media-markt prospekt, toom baumarkt prospekt