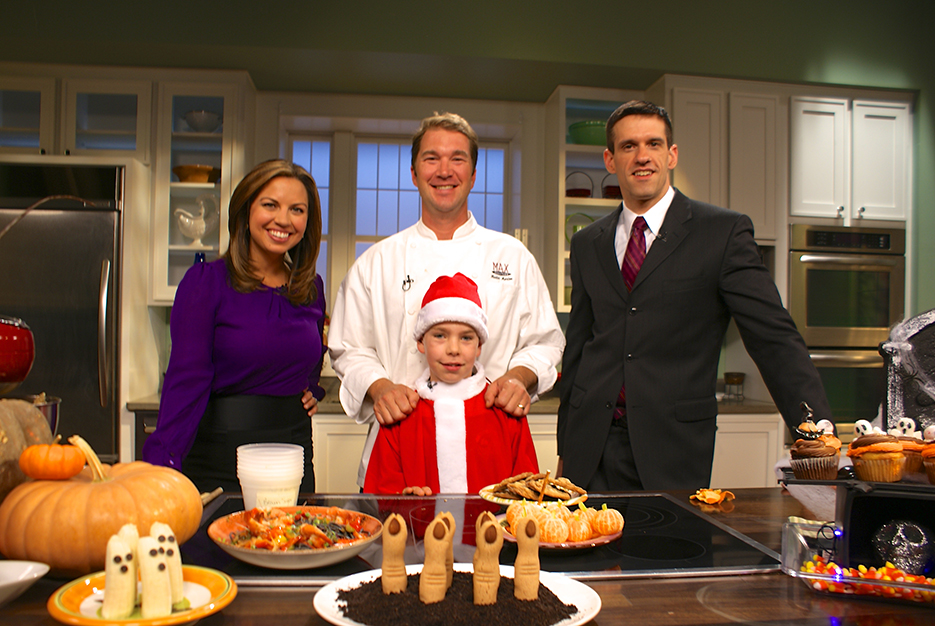 Chef Hunter Morton and his son Carter join the WFSB Channel 3 morning news team to talk Halloween Goodies and make:
Hallows Eve Garbage Can Cookies
2 sticks of butter, soft
1 cup sugar
2/3 packed brown sugar
3 Tbsp agave nectar
1 egg
1/2 tsp vanilla extract
1 1/2 cups all purpose flour
1/2 tsp baking powder
1/4 tsp baking soda
1/2 tsp salt
3/4 cups chocolate chips
1/2 cup butterscotch chips
1/2 cup graham cracker crumbs
1/3 cup oats
1 Tbsp ground coffee
2 cups potato chips
1 cup mini pretzels
Cream butter, sugars and agave nectar in mixer with paddle
attachment (or beat together with handheld beater) until fluffy.
Add the egg and vanilla. Then add flour, baking powder, baking soda and salt. Then add everything else, making sure the potato chips and pretzels are last to prevent them from breaking too much. Chill the dough for an hour then drop by spoonfuls onto a greased cookie sheet. Bake at 350 degrees for 7 to 10 minutes (all ovens vary). Enjoy!
Ihr Top aktuelle Angebote, Rabatte und Aktionen : lidl prospekt, real prospekt, aldi nord prospekt, kaufland prospekt, netto marken discount prospekt