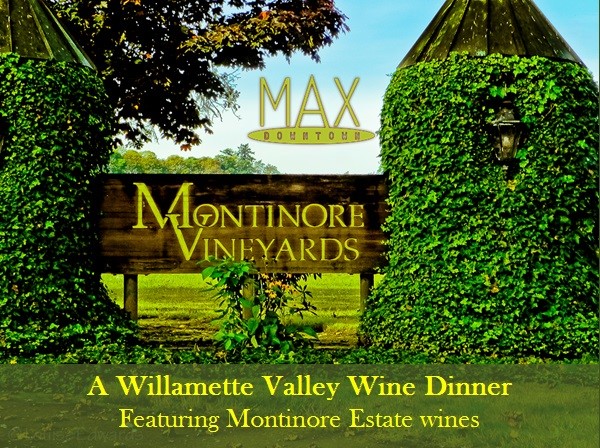 Max Downtown is very pleased to present
A Willamette Valley Wine Dinner
with Rudy Marchesi
Proprietor, President and Winegrower, Montinore Estate
Since 1992, Rudy Marchesi has been an integral part of the growth and operation of Montinore Estate in the Willamette Valley of Oregon. With his initial involvement being to simply promote the wines and the region, this passion eventually grew to overseeing operations and eventually ownership.
We are very pleased to welcome Rudy Marchesi for this fabulous wine and food pairing dinner featuring a menu by Executive Chef Chris Sheehan.
Friday November 18th
6:00pm Reception | 6:30pm Seating
MENU
R E C E P T I O N
Montinore Estate Pinot Gris, 2015
Passed Hors d'Oeuvres
C O U R S E O N E
Montinore Estate Riesling, 2014
Hudson Valley Duck Rillettes
Goat Cheese, Shallot Marmalade, Apple Butter Toast
C O U R S E T W O
Montinore Estate Borealis White Blend, 2015
Nantucket Bay Scallop "Cocktail"
Celery Root, Radish, Uni Remoulade
C O U R S E T H R E E
Montinore Estate Pinot Noir Estate Reserve, 2013
Suckling Pig Presse
Figs, Roasted Beets, Blackberry Jus
C O U R S E F O U R
Montinore Estate Pinot Noir Estate Parson's Pinnacle, 2014
Creekstone Farm Dry Aged Brisket
Steak Frites, Cheddar Curd, Brussels Sprout Ceasar, Green Peppercorn Gravy
D E S S E R T
Montinore Estate Ruby – A Pinot Noir Solera Port-Style Wine
Pineapple Coffee Cake
Tres Leches Gelato, Macadamia Streusel
$89 Per Person
(Not Including Tax or Gratuity)
Please Call Max Downtown for Reservations
860.522.2530
Ihr Top aktuelle Angebote, Rabatte und Aktionen : lidl prospekt, real prospekt, aldi nord prospekt, kaufland prospekt, netto marken discount prospekt