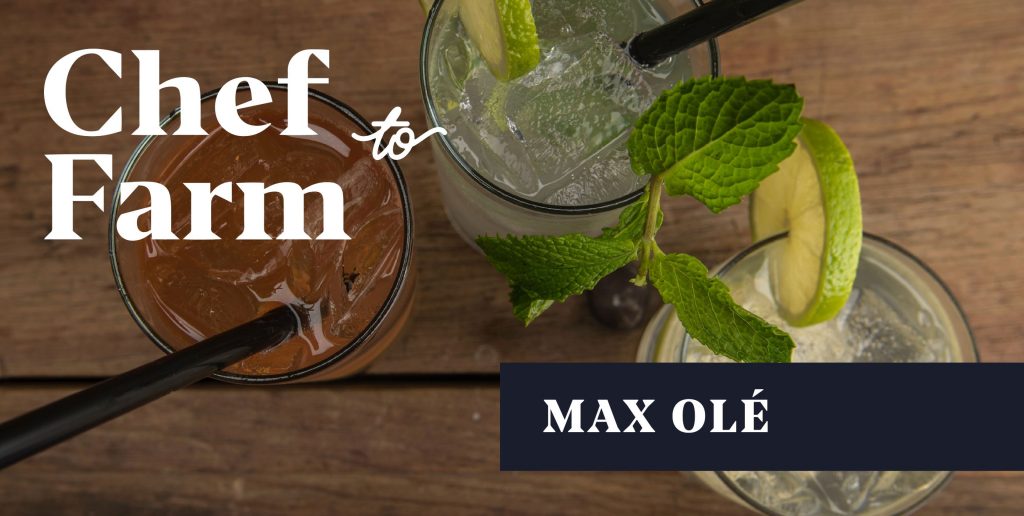 UPDATE – July 7, 2020 – July 10th is SOLD OUT, but due to the popularity of the first night of Max Olé we are adding tickets for a second night on July 11th
While Max Downtown is on hiatus due to Covid-19 related restriction, we will be taking the show on the road and setting up our kitchen out on the farm – Rosedale Farm in Simsbury, CT, which is also the summer home for the Max Chef to Farm Series – now in its 13th season.
Continuing on with the summer series – Max Downtown and max Catering will be on the farm July 10th and 11th. Seating is limited and we will be taking all of the precautions you will see (and sometimes not see) as in our restaurants. We are following all State and CDC Guidelines for safety and sensitization. Below is a complete list of FAQs that we know are on our guest's mind, so we hope you find this helpful. If there are any other questions, please feel free to reach out to Max Customer Service to discuss.
We look forward to seeing you out on the farm – safe and with a little distance. We do have 200 acres to roam across, so there is plenty of space!
PURCHASE TICKETS HERE:
Friday, July 10th (SOLD OUT)  |  Saturday, July 11th
A note to our Guests…
Max Downtown and Max Catering are pleased to welcome you to Rosedale Farms. This is our thirteenth year of our Chef to Farm dinner series and by far our most challenging in terms of rewriting the rules of service and hospitality in the COVID-19 era. Our team has spent many hours discussing and designing a way of serving you that keeps you and our employees safe.
• WE ASK YOU TO WEAR A FACE MASK TO THE EVENT, WHENEVER YOU HAVE TO GET UP FROM YOUR TABLE TO USE THE RESTROOM AND ALSO WHEN YOU LEAVE.
• WE WILL ASK YOU TO REMAIN IN YOUR CARS UNTIL A MEMBER OF OUR STAFF INVITES YOU TO THE TENT. ONCE IN THE TENT YOU WILL BE ESCORTED TO YOUR PRE-ASSIGNED SEAT. IF YOU PREFER TO GET OUT OF YOUR CAR AND WALK AROUND THE FARM WE ASK YOU TO RESPECT SAFE DISTANCING FROM EMPLOYEES AND OTHERS AT THE FARM AND WE ALSO ASK YOU TO REMAIN OUTSIDE OF THE TENT UNTIL 6:30
• EMPLOYEES HAVE BEEN TRAINED IN THE CURRENT SERVSAFE® PRACTICES RELATED TO TAKING CARE OF OUR DINING CUSTOMERS
• TABLES ARE SPACED AT A SAFE DISTANCE AND SERVERS HAVE BEEN TRAINED TO RESPECT THE SPACE AROUND YOU DURING ORDER TAKING
• ALL TABLES AND CHAIRS WILL BE SANITIZED BEFORE YOU ARE SEATED
• ALL MENUS HAVE SWITCHED TO SINGLE USE
• EMPLOYEES WILL WEAR MASKS AT ALL TIMES WHILE SETTING UP THE DINING AREA AND WHILE SERVING YOU
• ALL SILVERWARE THAT YOU WILL NEED FOR DINNER WILL BE IN A PAPER BAG AT YOUR PLACE SETTING.
• EMPLOYEES WILL WEAR GLOVES THAT WILL BE CHANGED BETWEEN JOB FUNCTIONS.  YOU WILL SEE OUR SERVERS WEAR BLACK GLOVES TO SERVE FOOD AND BEVERAGES AND BLUE GLOVES TO CLEAR.
• WE WILL BE PROVIDING CARAFES OF WATER FOR EVERY TWO GUESTS. YOUR WATER GLASS WILL BE COVERED AND WE ASK YOU TO POUR YOUR OWN WATER SO THAT WE DO NOT NEED TO TOUCH YOUR WATER GLASS WHILE YOU ARE USING IT.
• ALL OF OUR EMPLOYEES ARE ASKED STANDARD HEALTH QUESTIONS WHEN THEY ARRIVE AT WORK AND THEIR TEMPERATURE IS TAKEN TO ENSURE THAT THEY ARE NOT RUNNING A FEVER
• ALL OF OUR CLEANING CHEMICALS ARE COVID RATED
• OUR BATHROOMS AND DOOR HANDLES WILL BE SANITIZED BETWEEN EVERY USE
• EMPLOYEES THAT ARE EXPERIENCING ANY SYMPTOMS RELATED TO THE ON-SET OF ILLNESS ARE REQUIRED TO REMAIN HOME AND WILL NOT BE ALLOWED TO WORK AGAIN UNTIL THEY HAVE A NEGATIVE TEST RESULT
• WE FOLLOW CDC AND DEPARTMENT OF HEALTH GUIDELINES AND WE CONSULT WITH THEM WHEN NEEDED
How you can help us keep you safe:
• Please respect and remain conscious of the space between you, your fellow guests and our employees
• We require all guests to wear a mask at all times when they are not seated. If you do not have one,  one will be provided for you  (Pursuant to State Law)
• Hand sanitizer is available for your comfort, we recommend that you use it
prior to sitting down and as you leave the farm  
• Because of space restrictions due to Social Distancing, only one guest will
 be permitted at a time in the rest room.  If the door has a lock, please use it
• Wipes will be available in our restrooms for your use
please remember, If we remind you to be observant, we are trying to keep you safe.
Due to the current State mandated restrictions, we are not able to seat guests in groups more than 6. Please let us know if there are any dietary restrictions ahead of time, and please understand that we are unable to make last minute requests while on the farm as it is a limited kitchen. Max Downtown will be in contact prior to the event to confirm all seating and dietary arrangements.
QUESTIONS AND THE FINE PRINT
If you have questions about this event, please call Max Catering & Events at 860.566.8366.
This is a ticketless event – all ticket sales are through RESY for Max Olé .
Cancellation/Refund Policy
For Max Chef to Farm Festivals – Eventbrite fees are included in the total upon check-out. Tickets are refundable up to one day prior to the event, and this can be done via Eventbrite. Within 1 day of the event, refunds will be issued in the form of a Max Restaurant Group Gift Card for future use at any MRG location. Please contact Max Customer Service.
For Max Chef to Farm Dinners – all taxes and RESY fees are included in the final ticket price. Ticket purchases can be refunded up to 48 hours prior to the event (6:30 pm Wednesday July 8th for the Friday July 10th Dinner, 6:30 pm Thursday July 9th for the July 11th Dinner). Within 48 hours of the event, refunds will be issued in the form of a Max Restaurant Group Gift Card for future use at any MRG location.
In the event of inclement weather and the event has to be post-poned, the event will be rescheduled and all ticket purchases will be honored for the new date. MRG reserves the right to cancel or host the event, and final decisions on all refunds. We apologize, but Eventbrite fees cannot be refunded for cancellations within 24 hours of festival events, or 48 hours of dinner events.