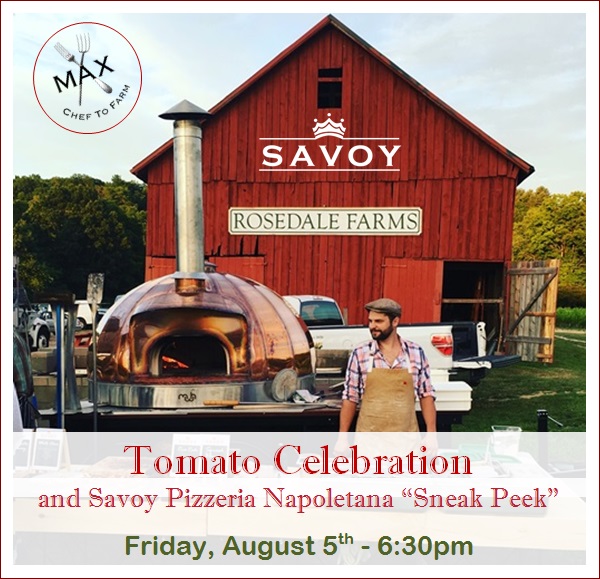 Max Chef to Farm Proudly Presents
TOMATO CELEBRATION
A unique Farm-to-Oven-to-Table event
Your first taste of Savoy Pizzeria Napoletana,
the new Max restaurant coming soon to West Hartford Center.
Please join us for a very special evening on the farm as we bring our brand new
European wood-fired oven & pizza trailer to Rosedale Farms & Vineyard
for a menu steeped in old world traditions.
Dante Cistulli of Savoy Pizzeria Napoletana & Steve Michalewicz of Max Catering & Events
have put together a fantastic, casual tasting menu
featuring Rosedale Farms' glorious tomato bounty & wood-fired pizzas,
local beer & wine, live music, and menu previews from Savoy Pizzeria Napoletana.

There is no assigned seating. Mingle with friends, old & new.
MENU
RECEPTION

Forager Cocktail "Summer on the Farm"
Rosedale Wines
Brewtus Maximus beer on tap
Tuscan Farm Table with Select Cheese & Salumi
INSALATA
Chopped Primavera
romaine, cherry tomatoes, radish, red & green peppers, celery, asparagus,
parmesan, bread crumbs, anchovy, fennel, lemon garlic dressing
Insalata Bianca
shaved fennel, orange supremes, parsley, toasted almond,
parmesan, lemon dijon, evoo
Caprese
vine ripened Rosedale tomatoes and house made fior di latte mozzarella,
basil, sea salt, evoo
PRIMI

Wood Fired Roasted Rosedale Tomatoes
fior di latte mozzarella, fresh basil
Tomato Gazpacho
local garden vegetables
Clams
Papa C's cherrystone clams, pancetta, fennel, garlic, Rosedale tomatoes
Octopus
gigante beans, roasted peppers, castelvetrano olives
Spicy Sausage
sweet bell peppers, cipollini onions
Dotti's Meatballs
tomato gravy, parmesan, basil
Tomato Bruschetta
garlic, Rosedale tomatoes, basil, filone

PIZZA

Margherita de Savoy
tomato sauce, fior di latte, fresh basil
Bianco
fior di latte, fontina, parmesan, ricotta, truffle paste
Rico Rabe
broccoli rabe & sweet sausage, fontina, crushed red pepper
Squash Blossom
Rosedale Farms blossoms, sliced squash, red onion,
cherry tomato, fior di latte, ricotta
Clam Pie
fresh shucked littlenecks, clam sauce, parmesan, toasted panko,
soppressata, red pepper flake, evoo
Nduja
carmalized onions, parmesan, evoo
Tomato
Rosedale vine ripened tomatoes,oregano, evoo
DOLCE
Summer Fruit Crostata
Chocolate Dipped Biscotti
$75 per person
(all inclusive)
~menu subject to change~
MAKE A RESERVATION
or call 860.566.8360
Ihr Top aktuelle Angebote, Rabatte und Aktionen : lidl prospekt, real prospekt, aldi nord prospekt, kaufland prospekt, netto marken discount prospekt