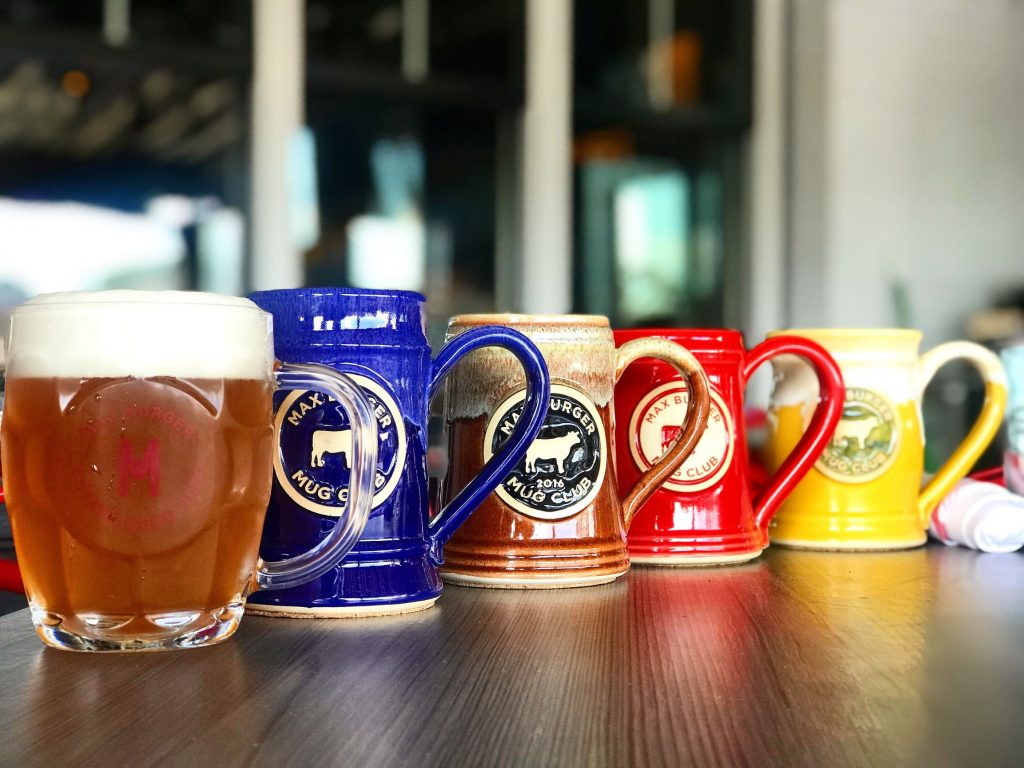 MAX MUG CLUB
Max Burger – Longmeadow, Massachusetts
Membership Agreement 2020
Welcome to the Max Mug Club page.  Below you will find details about the club membership benefits, which are good for the duration of the membership period.  Membership is done on an annual basis and renewals will be done on or before the first of January each year.
Membership Benefits and Terms include:
The 2020 Mug Club Membership is effective from January 1, 2020 through December 31, 2020.
First Mug Beer is complimentary with Membership payment.
A "Mug Beer" is defined by any of the regular pours (16oz, 14oz or 13oz)

These will be poured in your special "Max Mug", which contains 20oz

Non-Mug Beers, are those beers that are normally offered in sizes other than those listed above. These will be offered in their standard glass and at the standard price.

All memberships renew on January 1, of each year calendar.
Membership dues are non-refundable.
Joining after Jan 1, 2020, memberships will be pro-rated based on the quarterly period of the year, as follows:
Q1 > March 31 = 100% / $100

Q3 > September 30 = 50% / $50

Q4 > December 31 = 30% / $30
Memberships are transferable, but can only be done by a Max Burger Manager.

Only one transfer membership is allowed per calendar year.

The Membership Mug goes to the new member.

$100 annual membership, per year
$500 lifetime membership (available anytime)
Max Vantage Points are allowable for the purchase of Mug Club Membership Dues – a one-year membership value is 1400 points; lifetime membership is 7000 points.
Max Vantage points are not assigned on Membership Dues purchase.
Mug Club Members can accumulate Max Vantage points on other purchases, except where limitations are listed.
Keep your mug as long as you are a Member – take it home at the end of your membership if you are not continuing.
New mugs will be produced each year.
Only the Mug Club Member gets to use their mug. It's always at the bar waiting for you.
Member Mugs damaged or broken at Max Burger Longmeadow, will be replaced at the discretion of the Max Manager on duty

Mugs damaged or broken off Max Burger premises will not be replaced

Celebratory beer on your birthday
Max Mug Club is only available at Max Burger Longmeadow.  This membership does not apply to other MRG locations, and Club benefits do not apply at other locations.
Advance notice and 10% discount on all Max Burger Longmeadow Beer dinner events.
Exclusive notification for Max Mug Club First Friday Social Hour and Beer Tapping each month – you will be the first to know about our special beer being tapped or offered at 3pm the first Friday of each month. #MaxMugClub
Policies are subject to change.