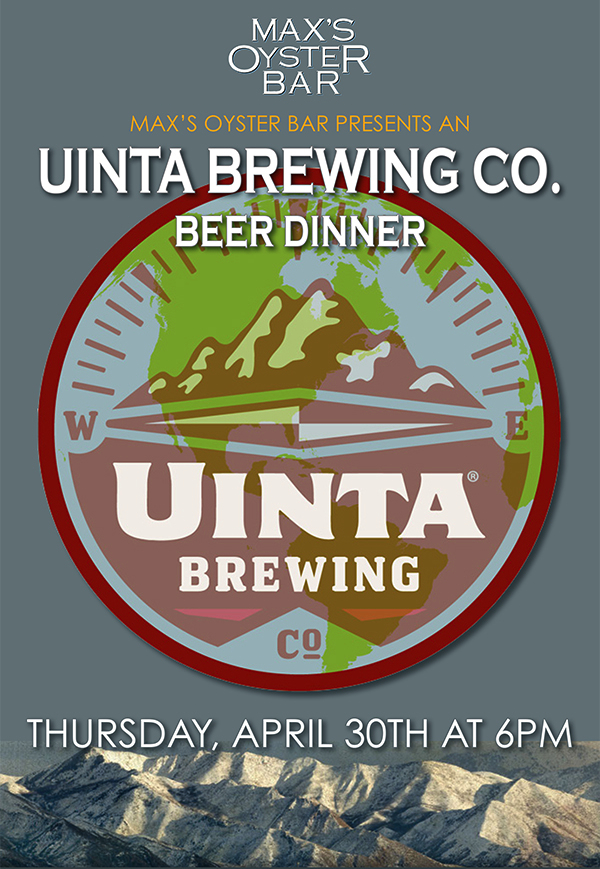 A RECEPTION & FIVE COURSE DINNER
FEATURING THE CRAFT BREWS OF
UNITA BREWING CO. OF SALT LAKE CITY, UTAH
Founded in 1993, Uinta Brewing has been making eclectic craft beers in a wide range
of styles and serving world class beers to good people in better ways, ever since. Since
2001 Uinta Brewing has been 100% wind-powered, becoming the first Utah company to
reach this mark. In an effort to continue its commitment to using renewable resources,
Uinta Brewing installed solar-electric paneling on the brewery's roof in 2011.
• UINTA TAP TAKE-OVER (EVERYONE INVITED) @ 5:00pm •
• BEERCEPTION FOR DINNER GUESTS @ 6:00 •
• SEATING FOR UINTA BEER DINNER @ 6:30 •
GUEST SPEAKER: SHAWN DUNN, NE REGIONAL MANAGER FOR UINTA
CUISINE BY EXECUTIVE CHEF HUNTER MORTON
#1
Jonah Crab and Ramp Hushpuppies
green goddess dressing
UINTA SUM'R: citrusy summer ale from their 100% organic line.
#2
Oak Hill Farms Goat Cheddar Beer Soup
blackened stonington red shrimp
UINTA WYLD: extra pale ale from their 100% organic line.
#3
Chicken and Biscuit
fried chicken, charred onion, blue cheese,
buttermilk biscuit, pickled tomato jam
UINTA HOO DOO: a kolsch style ale.
#4
Grilled Salt n Pepper Beef Ribs
black eyed peas, collard geens
UINTA HOP NOSH: an IPA.
#5
Black Walnut Pound Cake
black lager chocolate gravy
UINTA BABA: black lager from their 100% organic line.
$65 PER PERSON
(NOT INCLUDING TAX & GRATUITY)
RESERVATIONS REQUIRED: 860.236.6299
964 FARMINGTON AVE. WEST HARTFORD, CT MAXSOYSTERBAR.COM
Click Here for the Brewery Website

Take a look at this week's speacials : boxing day flyers, black friday flyers, best buy flyer, canadian tire flyer, home depot flyer