Trumbull Kitchen Is Very Pleased to Present A
WILLAMETTE VALLEY VINEYARDS
WINEMAKER PAIRING DINNER
Wednesday January 30th
6:00 reception | 6:30 Seating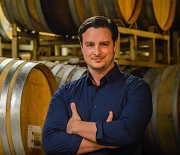 Founder, Jim Bernau, purchased the Estate site in 1983 and cleared away the old pioneer plum orchard hidden in Scotch broom and blackberry vines. He planted Pinot Noir (Pommard and Wadenswil clones), Chardonnay (Dijon and Espiguette) and Pinot Gris. In the beginning he hand-watered the vines with seventeen lengths of 75′ garden hose.
Willamette Valley Vineyards has come a long way since then.
Today, the stylistic emphasis is on pure varietal fruit characters, with attention to depth, richness of mouthfeel, and balance. The wines are truly a collaborative effort of the entire vineyard and winemaking staff.
Join us at Trumbull Kitchen to meet one of those winemakers and a fabulous dinner, pairing Willamette Valley Vineyards wines with Chef Chris Torla's menu.
Guest Speaker
Ryan Clifford
Harvest Winemaker / Regional Brand Manager
Willamette Valley Vineyards
Reception
Willamette Pinot Gris, 2017
Smoked Gouda and Apple Crostini
hot honey drizzle
1
Willamette Chardonnay, 2016
Smoked Salmon and Dungeness Crab Napoleon
meyer lemon, bulls' blood, lemon oil
2
Willamette Elton Pinot Noir, 2014
Charred Salmon Medallions
curried beluga lentil vinaigrette, crisp apple, baby watercress
3
Willamette Estate Pinot Noir, 2016
Sage and Honey Glazed Quail
butternut squash coulis, warm farro salad, pomegranate reduction
Dessert
Willamette WC Rose, 2016
Dried Cherry Tart
toasted pistachios, grilled cantaloupe relish, chantilly cream
$89 Per Person
(Not Including Tax or Gratuity)
Please Call Trumbull Kitchen for Reservations
(860) 493-7412