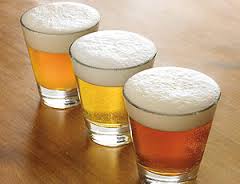 Max's Tavern in Springfield will be offering the Round Trip Tasting Flight consisting of a beer flight paired with a slider flight- all for an amazing $6.  Pick your favorite brews or try something new: offer includes three beer samplers in one of our famous Max sampler glasses served along with a flight of one of our famous beef, pork and chicken sliders.   Not a bad way to start the evening!
At Max Restaurant Group we are very pleased to announce a new initiative at each of our locations: Thursty Thursdays @ Max.  Come into any Max location on Thursdays and discover a great special only available that night.  Each month our locations will have new promotion that will be available on Thursdays.  These will change from week to week and month to month, so check back here or subscribe to our Social Media sites to get the latest updates on what we are offering.  Some of the creative offering may include drink and food specials, half-priced wines, or special tastings – the choices are limitless and are designed to give our loyal patrons another great reason to join us.  Whether you are winding down your week or getting your weekend kicked-off, this is a great opportunity to discover the fabulous sections of beers, wine, and cocktails at each of our locations.
Thursty Thursdays @ Max, just another great reason to join us.
This week's top deals and sales : metro flyer, giant tiger flyer, sobeys flyer, safeway flyer, superstore flyer