by Brian Mitchell, Corporate Beverage Director Max Restaurant Group
Today is IPA Day!  And to celebrate one of the most iconic beer styles, Max Burger in West Hartford is pouring seven IPA styles from seven of our favorite breweries.  On draft until they are gone, we have gotten a selection of local and national products that are recognized for their top quality and individual style.  See the range below, but first a quick history of IPA…
I.P.A. (or India Pale Ale, to your and me) – The Historical Angle
Ales have been produced in England and other regions of Europe for over 600 years, and by the 17th and 18th centuries, several things began to happen to influence the traditional styles of beer being produced.  With more advances toward the industrial revolution machinery and technology began to modify the roasting process, making it larger (more commercially scaled) and the raw resources changes from primarily wood ovens to larger coal or coke fired).  This allowed for greater control of the roasting process and lighter, or paler, malts began to be produced and used for brewing.  This led to paler styles of beer than had previously been made, hence the names Pale Ale was used for these brews.
Also, the British Empire was expanding its boundaries and domains, which now included the far east and India.  Shipping beer to these outposts created a situation where preservation of the products was key.  By using hops in greater and greater quantities, British brewers discovered that they could maintain the stability of the beer over long sea voyages, plus it made the bees taste really good, as well.  The highly hopped pale ales were often designated for shipment to India and so the name India Pale Ales was soon coined and stuck.
Today we know the style to be relatively mild from a malt point, but highly hopped for both aromatics and bittering.  Just about any respectable brewery makes a version (or two or three) of IPA, including the now regularly found Imperial IPA, which usually have an even elevated level of hop.  Enjoyed by many, the IPA has become well known and in high demand, so that we even see single variety hopped beers being produced, almost similar to the single vineyard expression of wines.  Enjoy one of these seven brews on tap today at Max Burger West Hartford…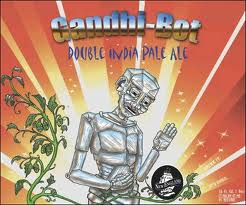 1 – Gandhi-Bot Double IPA – New England Brewing Company (Woodbridge, CT) – produced with three varieties of American hops, this is a CT State favorite and is usually found in limited release on draft.  We are big fans of beers from NEBCO, and are very pleased to have this in the line-up today.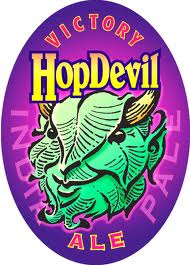 2 – Hop Devil IPA – Victory Brewing Company (Downington, PA) – a big styled IPA utilizing American hop varieties for the robust but balanced style that Victory is known for.  Coming in at 6.7% abv, it is right in the middle of what you can expect from an IPA.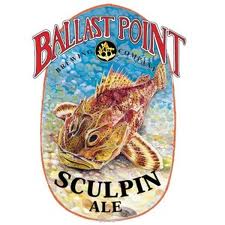 3 – Sculpin IPA – Ballast Point (San Diego, CA) – one of the harder to get beers from this 15+ year old brewery, the Sculpin just arrived and is a bit more Pale than most, but still packs a bit of a punch at 7% abv, just like the tasty fish it is named after.  This is a real treat.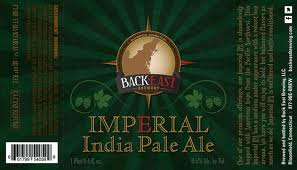 4 – Imperial IPA – Back East Brewing (Bloomfield, CT) – local it is with this top of the line Imperial style from local brewers Tony, Ed and Mike.  The Back East style is out of the premium range and comes in at a hefty 9.5% abv, but maintains a balance and freshness throughout.  Great drinking beer, just need to watch the intake levels (a bit).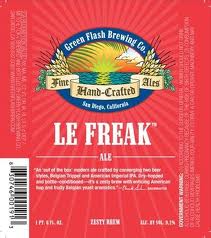 5 – Le Freak IPA – Green Flash Brewing (San Diego, CA) –  obviously a great place for brewing beer, San Diego's other great brewery is Green Flash.  The Le Freak IPA is an award winning style that merges the Belgian Tripple style with an American Imperial IPA style.  Nearly at the top of the register at 9.2%, it is a beauty of a beer.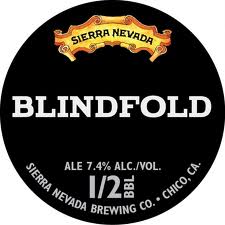 6 – Blindfold Black IPA – Sierra Nevada Brewing (Chico, CA) – the classic northern California Pale Ale brewer makes a statement with the Blindfold IPA, a brew that almost doesn't exist.  Very limited availability on this keg, this is a beer that should be on everyone's must-try list.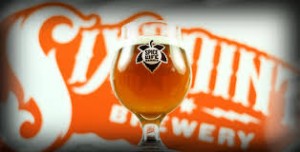 7 – Spice of Life Series: Galaxy IPA –  Six Point Brewing (Brooklyn, NY) – this series celebrates the HOP, by brewing and releasing with a single variety each month.  The 2013-2014 releases get kicked off this month with the Galaxy hop from New Zealand and Australia.  Big, fruity expression of hops in this brew.  Quite lush and tasty for the style.  Six point delivers with this one.
This week's top deals and sales : metro flyer, giant tiger flyer, sobeys flyer, safeway flyer, superstore flyer