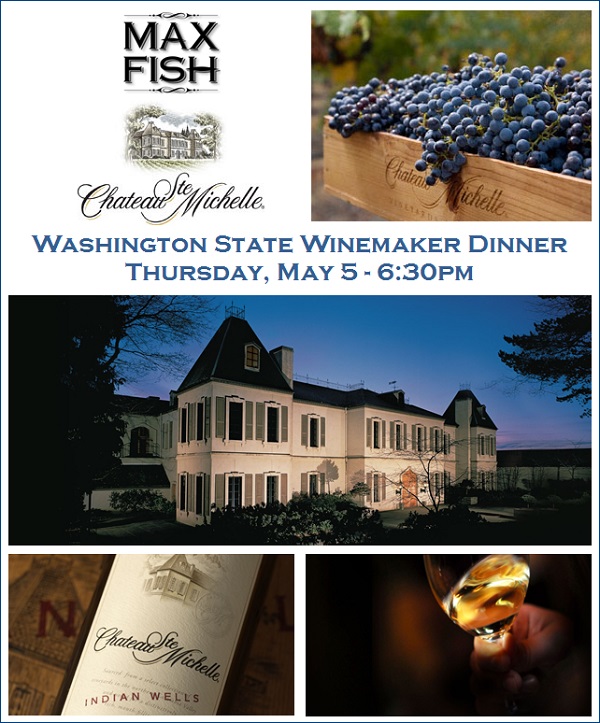 Max Fish Presents:
A WASHINGTON STATE WINEMAKER DINNER
May 5, 2016
With Special Guest Speaker: Bob Bertheau
Chateau Ste. Michelle Winemaker
Seating | 6:30pm
Quality is the driving force in everything at Chateau Ste. Michelle.
The winery has spent decades investing in quality vineyards
throughout the Columbia Valley in Washington, the finest winemaking equipment,
and world-class, top winemaking talent. This commitment to quality has led
Chateau Ste. Michelle to earn some of the highest accolades in the industry today.
To learn more, visit their website.
MENU
RECEPTION
Chateau Ste. Michelle Sauvignon Blanc Horse Heaven Hills, 2014
Matt's Bloody Mary Granita & Spicy Lobster Spoon
Honey Goat Cheese & Rhubarb Canape
classic gougere
Ahi Tuna Poke
lime peel, kukui nut, sesame-sea salt wonton
COURSE ONE
Eroica Riesling, 2014
Smoked Columbia River Sturgeon
edamame puree, mizuna greens, miso-mustard vinaigrette, spiced soy nuts

COURSE TWO
Chateau Ste. Michelle Chardonnay Indian Wells District, 2014
Chicken & Lobster Pot Pie
sweet peas, baby carrots, fingerling potatoes, parmesan puff pastry
COURSE THREE
Chateau Ste. Michelle Syrah, 2012
Cedar Planked Northwest Wild Salmon
pork & scallion fried rice, ponzu-soy glaze, shaved spring vegetables
COURSE FOUR
Chateau Ste. Michelle Cabernet Sauvignon Cold Creek, 2012
Veal Involtini
crab & mushroom stuffing, braised veal breast fregola,
grilled asparagus, cracked pepper-red wine gastrique
DESSERT
Coffee/Tea/Tasty Treats
$89.00 per person
(not including tax or gratuity)
Please call for reservations
860.652.3474
110 Glastonbury Blvd | Glastonbury, CT 06033 | @maxfishct
This week's top deals and sales : calgary co-op flyer, costco flyer, longos flyer, rexall flyer, shoppers drug mart flyer