by Brian Mitchell, Corporate Beverage Director, Max Restaurant Group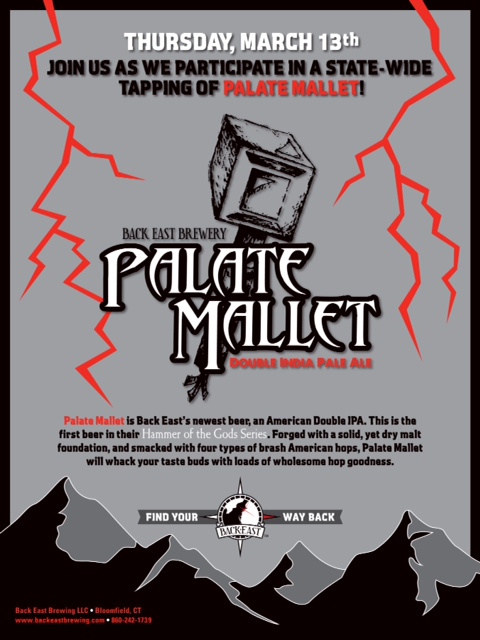 In addition to our regularly scheduled promotion this Thursty Thursday March 12, 2014, Max Burger and Max's Oyster Bar in West Hartford and Trumbull Kitchen in Hartford, will be participating in a CT State-wide tapping of the newest beer from Back East Brewery, called Palate Mallet American Double India Pale Ale. This is the newest beer from Back East Brewery and is designed to show off what CT brewers can do.
According to Tony Karlowicz, owner of Back East Brewing, the beer is brewed using four types of West Coast hops (specific varieties are being withheld as proprietary secrets), each used to focus the flavor impact on aromatics rather than bitterness.  These hops will help push the citrus grapefruit notes, and as the brew is double dry-hopped it will further emphasize this aspect.
Brewed to 8.6% abv, it is a big style, but not over-done with alcohol.  Drinkable and balanced is the word.  We will have to wait and see exactly how it tastes tomorrow night at 5p, as this is the official debut of this beer.  It will only be available at this point at the listed locations and while supplies are available.  The tentative plan is to get feedback from this release and probably brew the next batch in late April for a canned summer release.  We will see, but since the others brews from Back East have all been very favorably received by our guests, I can only imagine that this will become a regular item for Back East.
7p tapping – tomorrow night – Thursty Thursday March 12
Max Burger West Hartford
Max's Oyster Bar West Hartford
Trumbull Kitchener Hartford
This week's top deals and sales : calgary co-op flyer, costco flyer, longos flyer, rexall flyer, shoppers drug mart flyer