Tom Cannavan is an English wine journalist,  blogger, and TV/Radio host.  He recently interviewed Kevin Judd, the owner/winemaker of Greywacke Wines in New Zealand, and I thought I would share a bit of this interview with you.  Kevin Judd was on the scene in the early days (1980s) of modern New Zealand wine-making  and was responsible for helping launch Cloudy Bay wines, which in turn helped to launch New Zealand Sauvignon Blanc on to the world scene.  More recently, Kevin has gone on to create Greywacke Wines, which for my money are some of the best values and best tasting New Zealand SBs out there, as well as some of the best SBs from anywhere in the world, period.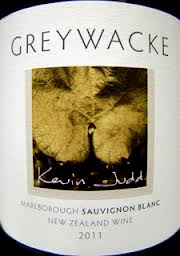 We are currently featuring Greywacke Sauvignon Blanc, 2011, at Max Downtown in Hartford and Max Oyster Bar in West Hartford, and as long as availability holds up I plan to run at other locations throughout the summer months.
You can see Tom's website here: http://www.wine-pages.com/tom-cannavan.html
Enjoy the interview below – Thanks, Brian Mitchell
Tom Cannavan, 03/13
In 2011 I met up with Kevin Judd in New Zealand and published a little tasting profile of his exciting new project, Greywacke. Winemaker at Cloudy Bay for over two decades, Kevin had launched Greywacke to huge critical acclaim in 2010 as a 'négociant' operation, borrowing winery space and using fruit he buys from long-standing friends and associates, all coming from mature vineyards within the central Wairau Plains and the Southern Valleys of Marlborough.
In February 2013 Kevin was in the UK, travelling around the country with his importer, Liberty Wines, and I was delighted to meet up with him for lunch and a tasting of his current releases. Two years on and it is status quo for Kevin terms of his business model, with a seven-wine range, still made in facilities borrowed from Dog Point Vineyards and sourcing fruit mainly from vineyards owned by Ivan Sutherland, ex-Cloudy Bay colleague and co-owner of Dog Point. But much else has changed: the phenomenal success of Greywacke has taken Kevin a little by surprise, with demand for the wines outstripping supply, and now selling in 25 different world markets.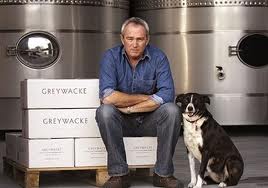 I asked Kevin why he took the decision to rent cellar space and buy in fruit. With a wry smile he shrugged and confessed "Because I had no money." Kevin left Cloudy Bay after the 2009 harvest, an important milestone for him as it marked his 25th harvest as winemaker there. His resignation was amicable, but it is pretty clear Kevin had tired of the corporate life (Cloudy Bay is part of luxury goods empire Luis Vuitton Moët Hennessey). "Now I share a lot of the backroom stuff with Dog Point," he tells me, "but I don't have all the bureaucracy and big business structure to deal with – it's me, my wife Kimberley and one assistant doing the paperwork." He sums it up in six words: "Greywacke has got to be fun."
 How long the fun can last if Greywacke's success continues is a moot point, but I also asked Kevin about the fresh winemaking start he had in 2009, quitting Cloudy Bay after 25 years and immediately launching his own label. "When I left Cloudy Bay I wanted to harvest fruit at the riper end of the spectrum, with lower yields, all the fruit on Scott Henry trellises, and doing things a bit differently." I asked if level of ripeness was the main difference between Cloudy Bay's iconic Sauvignon Blanc, and his own, but there are other differences: "I ferment 10% in barrel, and we use wild yeasts." Even more interesting in some ways is the 'wild' cuvée of the Sauvignon Blanc, 100% barrel fermented with wild yeasts. "I guess it is somewhere down the same road as Cloudy Bay's Te Koko," Kevin explained, "but not as far down." I also asked if he had thought of adding some Semillon to the blend (as was the case in early vintages of Cloudy Bay), but he was pretty firm in his response: "If we had the right clones we might, but Semillon is too heavy yielding in Marlborough and can be pretty ugly."
All of Kevin's fruit is sourced in Marlborough, with no thoughts of taking fruit from other New Zealand districts ("We're a Marlborough label," he says emphatically). That includes his Pinot Noir. Given that this operation started with a blank piece of paper, and he could theoretically buy fruit from anywhere, I wondered why he did not consider sourcing Pinot from Martinborough on the North Island, or from Central Otago further down the South Island, both established Pinot hot-spots with huge reputations. "Now that we've got the Southern Valleys coming on stream with Pinot in Marlborough, I think we have the potential to grow it as well as anywhere in the country," says Kevin. The Southern Valleys is a cool sub-region, with silt, gravel and clay soils and a relatively long ripening season. "I think we're a lot closer to Martinborough in style than Central Otago," Kevin adds. "We were slow off the mark with Pinot and we planted in the wrong places, but that has changed."
Kevin's Chardonnay has been a runaway success, and has given him the headache of sourcing enough fruit of the right quality. "I even placed ads in the local newspapers," he tells me, "looking for mature vineyards planted with the Mendoza clone, but there's just nothing about." The Mendoza Chardonnay clone is famous for its 'hen and chicken' habit of uneven sized berries, but Kevin is 100% convinced of its quality in Marlborough. Like the "Wild" Sauvignon Blanc, it is fermented only with indigenous yeasts, whole bunches being vinified in French oak barrels.
Sauvignon Blanc remains Greywacke's – and Marlborough's – undoubted headline act, Kevin's two bottlings accounting for 70% of production. I quizzed him on whether the image of Marlborough Sauvignon had been irreparably damaged by huge, industrial scale plantings and a spate of big harvests, that led to tumbling prices – the nadir hitting £4.99, even £3.99 on promotion a few years ago. "There are still a few of those 'get rich quick' operators about," he admits, but also he believes the steam has gone out of that: "and it's finite," he reminds me, "Marlborough has more or less all been planted."
Take a look at this week's speacials : loblaws flyer, walmart flyer, freshco flyer, no frills flyer, food basics flyer