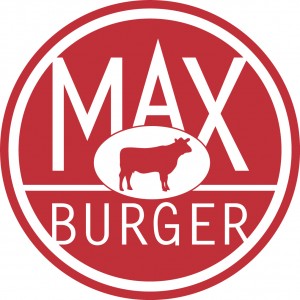 Each month Max Burger of West Hartford selects a brewery to feature and showcase special beers and drink nights around.  For the month of July, the select Brewery of the Month is Thomas Hooker Brewery of Bloomfield, CT.  The Max Restaurant Group has a close working relationship with the Hooker staff as they brew the Brewtus Maximus American Pale Ale, which is the house beer at the Max Group and the Pale Ale selection in the Hooker beer line-up.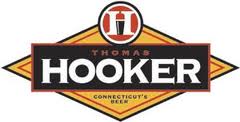 Aside from Brewtus Maximus, Thomas Hooker beers will be on feature all month.  Plus, there will be a special evening on Wednesday July 17, featuring small batch variations on some of Hooker's regular beers, including a Rauch style Helles.  The guys from Hooker came over to Max Burger last week and smoked some malts in the smoker at the restaurant.  They have used this custom smoked malt as an ingredient in this very limited production version of the Munich Helles Rauch Bier, which is a "lighter" style smoked lager beer perfect for summer and smoked/grilled meats.
Here is how the brewery describes the beer – Munich dark, pilsen and vienna malts blended with special grains smoked right on site at Max Burger. This light style lager has a smokey flavor with a bready finish. This sessionable lager is sure to please a variety of palates.  ABV 5%
The concept for this style and the quality of the Hooker products can be attributed to the two brewers at the company.  These are two young but experienced brewers that have recently joined forces at Hooker and are making huge strides in quality and taste improvements.  They have a smaller brew system for making variations on their regular line plus some test batches.  The future is bright for Thomas Hooker Brewery and their brewmaster, Stephen Andrews, and his assistant Sean Piels (see their bio's below).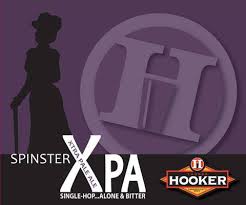 Another Hooker beer that you will find on draft throughout the month at Max Burger is the Hooker Spinster XPA – the Spinster name comes from the fact that this is a single hop varietal Ale, hence the Spinster…Single…get it?  Tasty though, not mean and nasty.
Here is what they says about this one…
Dry Hopped Spinster XPA (cask conditioned)- We took our newest creation, the Spinster XPA, and dry hopped with Mosaic and Citra hops. The unfiltered XPA's citrus aroma from late addition Summit hops blends with the Mosaic's mango and lemon notes as well as the Citra's tropical tones. ABV 4.8%
Meet the Brewers…
Stephen Andrews – Head Brewer
A graduate of Chicago's World Brewing Academy International Diploma in Brewing Technology Program at Siebel Institute of Technology and Doemen's Academy in Munich, Germany, Stephen also has a degree from the London based Institute of Brewing and Distilling. While studying and training as a brewer, Stephen's travels have brought him to Bavaria, Austria, Belgium, England and an expansive tour of Germany. During his time in Germany, he trained in authentic German styles using a 7 barrel Steinecker brewing system. Back in the states, this Simsbury local joined the Thomas Hooker team in early 2011, where he has brought a wealth of creativity and brewing knowledge.
Sean Piel – Brewer
A graduate of Brewlab School of British Brewing Technology, Sean first found his passion for beer home brewing with his father at a young age. After attending Brewlab, Sean traveled to Belgium, Scotland and Ireland. Sean ended up spending time living in England and Germany to learn about different breweries, techniques of brewing and different beers. He rounded out his stay in Europe with a year long internship at Stoettner Brewing Company in Pfaffenburg, Germany. Upon his return to his native Connecticut, Sean came on board as a brewer at Thomas Hooker Brewing Company in the end of 2012.
This week's top deals and sales : metro flyer, giant tiger flyer, sobeys flyer, safeway flyer, superstore flyer