By Brian Mitchell, Corporate Beverage Director
At Max Downtown in Hartford, our lead bartender, Mike Mills, created this drink for the summer menu.  He is a big fan of Russian Vodka and the way it takes to infusions, such as the pepper mix he uses for this drink.  The depth of flavor achieved by combining three pepper elements is great and really makes this drink pop.  The spicy note added by combining Jalapeno and pepper corns, plus the touch of spice from the Habanero shrub, play off of the fruity elements from the mango and the sweet bell pepper.  I think it is this sweet and spicy play that has really made it a popular drink among our guests, plus this drink is surprisingly light and refreshing, perfect for battling the heavy heat and humidity of summertime.
This drink is called the Spicy Tango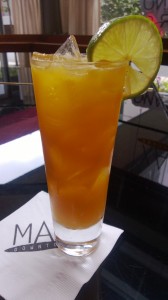 Recipe:
2oz Pepper Infused Hammer & Sickle Vodka (see below)
.5oz Pierre Ferrand Curacao
1oz Fresh Lime Juice
2 tsp Mango Puree
5 drops Bitterman's Habanero Shrub
To make the House Infused Vodka:
1 liter Hammer & Sickle Russian Vodka
½  red bell pepper, sliced
2 table spoons Black peppercorns
1 Jalapeno, sliced, no seeds
Let infuse for 3 days, stirring once a day.
This week's top deals and sales : metro flyer, giant tiger flyer, sobeys flyer, safeway flyer, superstore flyer