by Brian Mitchell, Corporate Beverage Director, Max Restaurant Group
Each Month Max Burger West Hartford has a brewery that we like to focus on and pay a little extra attention to.  There are so many great craft breweries in the United States, at this point, that we feel it is important to support this effort and recognize the great brewers in and out of CT.  For the month of September, we have chosen Oskar Blues Brewery from Longmont, Colorado, as our feature.
Why Oskar Blues??
The make great beer.  At affordable prices.  Only in cans (and kegs, which are big cans). They have a lot of fun doing it. We have a lot of fun drinking it.
Founded in 1997, by Dale Katechis, who now owns several related breweries and brew pubs, Oskar Blues made a statement by being the first craft brewery to "bottle" their brews in cans, rather than bottles.  They are basically credited with starting what has become a national trend in brewing by using lighter weight, recyclable aluminium cans, kind of the way a lot of older styled brands were consumed.  They also like to do things like Mountain Bike and Hike, and since cans are lighter than glass these beers are often found along for the ride.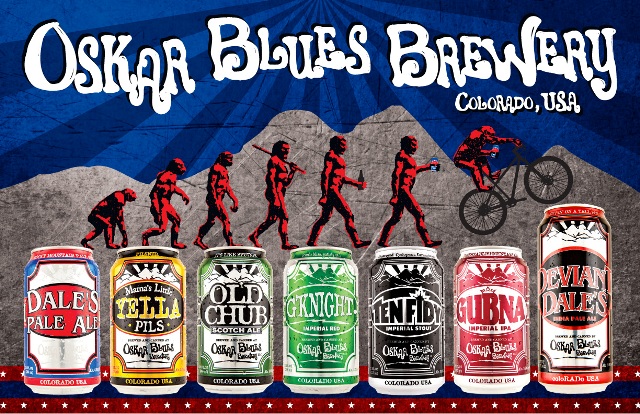 Oskar Blues makes 6 different styles of beer:
Dales Pale Ale (the first, 6.5%abv and lighter than an IPA),
Old Chub Scotch Ale (8%abv and made with a variety of malts that lean toward the heavier side),
G'Knight, a fuller style of beer that is brewed in honor of Gordon Knight, a Colorado firefighter who lost his life in 2002 (8.7%abv),
Ten FIDY and Imperial Stout at about 10%abv, this is the seasonal's seasonal as it is big and hearty
Mama's Little Yella Pils, which is a smaller batched Pilsner style made with German malts and Bavarian hops (5.3%abv)
Gubna an Imperial IPA that is dry hopped and and comes in at 100 IBUs and 10%abv
Max Burger West Hartford will be featuring a selection of Oskar Blues Brews throughout the entire month of September, plus on the third Wednesday of the month, we have a very special keg that will be tapped at 5pm.  Join us in person to taste and enjoy this great beer and all the others from Oskar Blues all month long in West Hartford.
This week's top deals and sales : metro flyer, giant tiger flyer, sobeys flyer, safeway flyer, superstore flyer