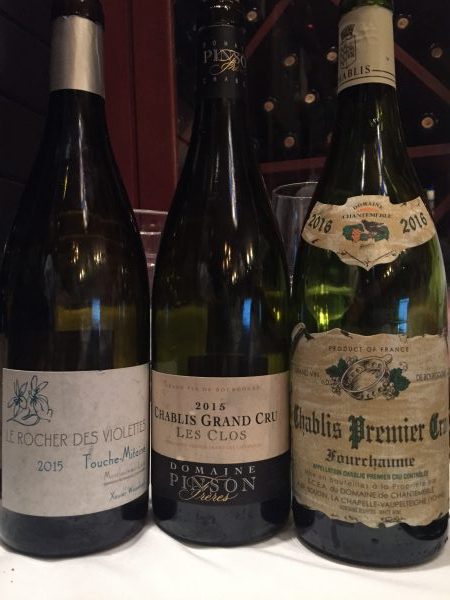 This week we added a few new selections to the wine list at Max's Oyster Bar. These choices were based on recent tastings I have attended and the strength of the 2015 and 2016 vintages in Burgundy in particular.
The definite standouts for me are from a tasting in New York I attended last week. This showcased a great selection of these top vintages, but in a dramatic side by side fashion, allowing for an easy review of the vintage styles comparatively, and together. The two wines of note are a 2016 1er Cru Chablis from Domaine de Chantemerle, from the famous vineyard Fourchaume. Great core of chalky, wet stone, wrapped around crisp green apple flavor. Perfect or a big plate of raw seafood. The other standout is the 2015 Grand Cru Chablis from Domaine Pinson, this one in particular from the Les Clos vineyard, the biggest of the seven climates in GC Chablis. This wine not only has the great chalky style in the mid-palate, but richness and length rarely met with other Chardonnay. The other thing that stood out for me is the the fact that despite these wines are top sources, the prices are very reasonable and we are able to present on the wine list as comparative values. Perfect styles for our menu.
The third wine I added this week to the list at MOB, is a tasty Chenin Blanc form the Montlouis-sur-Loire appellation. Many people are familiar with Vouvray, which is the area just across the river from Montlouis, but less familiar is that great Chenin Blanc also comes from this side of the river. I tasted this wine with the staff and they were all in love with the chalky, green apple and brioche flavors of this wine. A perfect wine to have as an alternative to Chardonnay or Sauvignon Blanc. delicious and balabced and relative bargain on our selections.
Check out this article for a bit more information on Montlouis-sur-Loire.
Three great wines from the Loire in France and from outstanding vintages – all on the list this week at Max's Oyster Bar.
Take a look at this week's speacials : loblaws flyer, walmart flyer, freshco flyer, no frills flyer, food basics flyer