by Brian Mitchell, Beverage Director, Max Restaurant Group
One of our favorite local brewers produces this tasty beer on occasion and only in limited quantities, especially on draft.  This week, though, at Max's Oyster Bar we will be placing the New England Brewing Company Weiss Trash Culture on line (you should expect it to start either Tuesday or Wednesday).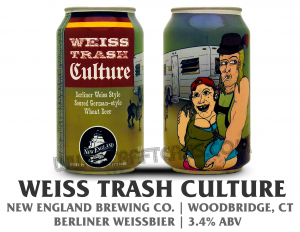 Produced at NEBCO, in Woodbridge, Ct., this is a great example of a weiss style beer, which is closest to what is known as a Berliner Weiss.  The name though is a play on words and also refers to the specialty yeast that is used to make this style of beer, which are known as White beers. "Weiss" refers to the yeast strain as well as the cloudy effect the beers often have from both yeast and wheat which is the main grain for production.
Extremely refreshing and crisp, the Berliner Weiss beers are often dosed with a little sweet syrup, such as raspberry, to soften them.  These are perfect to enjoy on their own when the weather is a bit warmer (such as it will be this week), as they are crisp and light.  A characteristic which also makes them a perfect draft to have at Max's Oyster Bar with some fresh seafood dishes, including Oysters and the raw bar, or a lobster special, which will also be running later this week.
The other great thing about this beer is the fact that it is only 3.4% abv, which means you can drink one (or two) and not get as weighed down as from one of the fuller styles of beer.  Perfectly suited to dining and fine cuisine.  Give this a go at Max's Oyster Bar this week and enjoy one of the best locally produced beers by one of CT's best brewers – NEBCO.
Ihr Top aktuelle Angebote, Rabatte und Aktionen : lidl prospekt, real prospekt, aldi nord prospekt, kaufland prospekt, netto marken discount prospekt