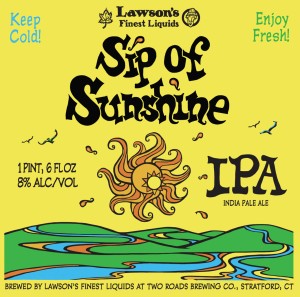 Followers of truly small production, boutique, even mythical beers will take note about the fact that Connecticut has a new player on the scene.  A player with a big reputation already established for itself.
Lawson's Finest Liquids out of Warren, Vermont, has become available in extremely limited quantities in the Hartford market, and we will be tapping at two Max location's later today.
What is so special about this brewer and the beers they produce?  Well, too start – not too many breweries can claim multiple 100 point beers on BeerAdvocate. Lawson's can, of course.  Making beers that achieve the "World Class" status is no easy feat, and to have one of these beers available on our bars is a real treat.
The Sip Of Sunshine from Lawson's will be tapped for lunch at Trumbull Kitchen in Hartford, and later today Max Burger in West Hartford will also be tapping a keg.  Based on our recent experiences with similar beers we expect the kegs to go very quickly.  We are lovers of these balanced and delicious craft beers, and feel very lucky to be able to offer these selections to our guests.
Ihr Top aktuelle Angebote, Rabatte und Aktionen : lidl prospekt, real prospekt, aldi nord prospekt, kaufland prospekt, netto marken discount prospekt