By Brian Mitchell – Corporate Beverage Director, Max Restaurant Group
A few weeks ago I had the pleasure of travelling to Sonoma and Napa Valleys to visit with some wineries and to spend some time with the winemakers for our Max Family Cuvee wines.  The news at this point is that we will be introducing a brand new wine to the mix at each Max location, hopefully in just a few weeks.  This wine is the innaugural vintage of Max Family Cuvee White – a Sauvignon Blanc heavy white blend that also has some Chardonnay, Gewurztraminer and Viognier in the mix.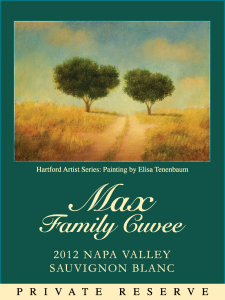 I was fortunate enough to have the opportunity to spend a few hours with Zach Long, the winemaker responsible for making the Max Family Cuvee White, as well as head winemaker at Kunde Estate, located in Sonoma.  The white Cuvee will carry a Sonoma appellation, which is different than the red with a Napa designation, and this is the region that Zach Long likes and knows the best.  When we were putting the first blends together back in December and January, we were initially working with the Girard team that makes the red Cuvee, but I wanted something a bit different and knew that the same company that owns Girard, also works with Kunde.  I liked the wines from Sonoma for their soft fruit and fleshy palate style and was hoping that we could get the same style for the white Cuvee.  Eventually we found some wines that seem to fit what I was looking for and so now our Max Family White will be made at Kunde Estate, the best option for this style of wine.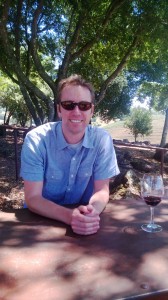 On my visit, Zach took me on a tour of the property which is over 100 years old and is more than 1600 acres situated in the shadow of Sonoma Mountain, just south of Santa Rosa.  Kunde produces Sauvignon Blanc as a large percentage of its regular out-put, and Zach showed me the exact vineyard blocks that make up our white Cuvee.  These are older blocks that often will held for reserve level wines.  Kunde Winery grows a range of grapes varietals, both red and white, and with so much soil and topographical diversity, this gives them tremendous resources when it comes to having many options for blending.  Red and white grapes are grown on both flat vineyards and hillsides that range over 1500 feet in elevation.  Having this much diversity, it is possible to get multi-layered complexity in wines, adding depth and character to just about everything made here.
For the Max Family White Cuvee, we went back and forth on a umber of different options, finally settling on a  blend that is Sauvignon Blanc based with smaller percentages of Gewurztraminer, Viognier and even some high acid Chardonnay to build in extra mouth-feel.  I personally get a great response when I serve Sonoma Sauvignons because they tend to bring together the best of what Sauvignon can offer in cool climates like New Zealand – fresh tropical fruits and racy acidity, but also show some restraint that is more common to Loire Valley Sauvignons from France.  Balanced and fruit forward this wine will work well with what Max does best, such as fresh seafood as Max's Oyster Bar, Max Fish, Max's Tavern and Max Downtown, or great Asian influenced dishes at Trumbull Kitchen, to the salads and lighter fair at Max Burger and our Italian locations.
The label has been approved by the Federal Government and we are now awaiting CT and MA State approval.  We hope to have this wine to our restaurants by the middle of June and serving it year-round.  We are planning a kick-off party to launch this great addition to our Max Family, details to follow as soon as we have label approval and know the dates for shipping from Sonoma.

Take a look at this week's speacials : loblaws flyer, walmart flyer, freshco flyer, no frills flyer, food basics flyer