by Brian Mitchell, Corporate Beverage Director, Max Restaurant Group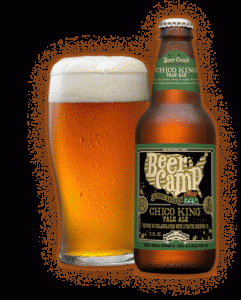 This summer Sierra Nevada Brewing, one of (if not the) leading Craft Brewer in the United States, set out on a summer long tour and festival drive.  Taking their bus and brewing genius across the country, the folks for Sierra stopped over in Festivals from Californai to Maine.  Along the way they created and made a series of beers that are as unique and varied as any out there – all in conjunction with 12 other craft breweries.  You can read about this huge collaborative effort on the Sierra Nevada Beer Camp webpage by clicking here.
To celebrate this huge endeavor, Max Burger in West Hartford will be featuring a selection of these collaborative brews from the Beer Camp collection, starting today with the Sierra Nevada / Three Floyd's Brewing Co. Chico King Pale Ale.

3 Floyds has a reputation as the Midwestern kings of alpha (hops). Chico King is a mash-up of a mutual passion between these breweries for hoppy pale ales, and combines a uniquely robust malt body with intense citrusy and fruity new school hop varietals.
3 Floyds marches to the beat of their own (double kick) drum when it comes to collaboration, often partnering with comic book artists, tattoo parlors or heavy metal bands when inspiration strikes. These eclectic beers are coveted throughout the Midwest and some beers, like the legendary Dark Lord Imperial Stout, have spawned something akin to a beer-themed holiday in the brewery's hometown of Muenster, IN.
On tap today, come into Max Burger West Hartford to taste some of this very limited production beer.  We will be following this up with a selection later in the week, including other Beer Camp collaborative brews, such as:
Sierra Tater Ridge Scottish Ale, brewed with the Asheville Brewers Alliance, from Asheville, NC
Sierra Yonder Bock Tropical Maibock, brewed with Cigar City Brewing out of Tampa, FL
Sierra There and Back English-style Bitter, brewed with New Glarus Brewing in New Glarus, WI
Sierra Double Latte Coffee Milk Stout, brewed with Ninkasi Brewing Co., from Eugene, OR
Sierra Yvan the Great Belgian Style Blonde, brewed with Russian River Brewing Co, out of Santa Rosa, Ca
Sierra Alt Route Altbier, brewed with Victory Brewing out of Downington, Pa
Ihr Top aktuelle Angebote, Rabatte und Aktionen : lidl prospekt, real prospekt, aldi nord prospekt, kaufland prospekt, netto marken discount prospekt