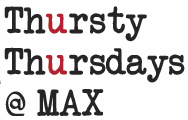 At Max Restaurant Group we are very pleased to announce a new initiative at each of our locations: Thursty Thursdays @ Max.  Come into any Max location on Thursdays and discover a great special only available that night.  Each month our locations will have new promotion that will be available on Thursdays.  These will change from week to week and month to month, so check back here or subscribe to our Social Media sites to get the latest updates on what we are offering.  Some of the creative offering may include drink and food specials, half-priced wines, or special tastings – the choices are limitless and are designed to give our loyal patrons another great reason to join us.  Whether you are winding down your week or getting your weekend kicked-off, this is a great opportunity to discover the fabulous sections of beers, wine, and cocktails at each of our locations.  Thursty Thursdays @ Max, just another great reason to join us.
Here is brief description of some of the promotion we are featuring throughout the month of February…
Max Amore in Glastonbury will be offering 1/2 priced bottled wine every Thursday night in February.  Yes, that is right, every bottled wine on the list will be 1/2 priced from its normal offering.  A huge savings and great way to try many of the top wines we carry.  Max Amore's Italian focused list has selections from every major wine region in Italy, plus favorites from California, Washington State and beyond.  Come in and discover your new favorite along with the spectacular menu from Chef Ted Burnett.  Discount applies to bottled wine selections, only.
Max's Tavern in Springfield will be offering the Round Trip Tasting Flight consisting of a beer flight paired with a slider flight- all for an amazing $6.  Pick your favorite brews or try something new: offer includes three beer samplers in one of our famous Max sampler glasses served along with a flight of one of our famous beef, pork and chicken sliders.   Not a bad way to start the evening.
Max Fish in Glastonbury will be offering a 1/2 dozen fresh oysters along with a pick your draft selection, all for $9.  There are few better combinations than fresh, briny oysters and craft beer – get them both at a great price on Thursdays at Max Fish.
Max A Mia in Avon will be offering for Thursty Thursday Vino e Salumi.  Each Thursday in February we will pick a new wine from our list and offer it by the glass along with a Chef's selction salumi plate – all for $15.  And we are not messing around wit the wines here as we want to showcase the best of what we have.  This Thursday we will be pouring the fabulous Prudittori di Barbaresco 2008 Barbaresco, one of the most famous selections from Piemonte, and a truly delicious wine (normally sold for $20 / glass), along with a classic salumi plate put together by chef David Stickney.
Max Downtown in Hartford will be offering a new selection from its Wine by Coravin list.  If you are unfamiliar with the new Coravin device, and you are a wine fan, you need to discover the flexibility it allows us in offering more selections by the glass.  The Coravin is essentially a mini-cruvinet system, which allows us to literally tap a bottle of wine without removing the cork, replacing the air inside the bottle with inert gas as we remove the wine for you to taste.  This means we can tap and offer a large selection of wines without any adverse effect to the wine remaining in the bottle.  This week we will be featuring the fabulous Silver Oak Cabernet Sauvignon Alexander Valley, 2010, one of the most highly regarded California wineries, at he unbelievable price of $18 per glass!  Rarely offered by the glass, here is a great opportunity to taste without committing to a full bottle.
Max's Oyster Bar in West Hartford will be offering a regional pairing of Local Brews and Local Seafood.  Each week in February we will pick a New England region and pair a selection of local seafood along with a local craft brew from that area.  Starting this week for Thursty Thursday @ Max, we will be promoting Bluepoint Brewing Co from Patchogue, NY, along with a 1/2 dozen plate of Bluepoint Oysters, all for $9.  What better way to celbrate local farming than with local seasonal products and great local brews.  Upcoming specials will include Thimble Island Brewing with Thimble Island Clams, Narraganset Brewing with Rhode Island Oysters, Harpoon Brewing with Massachusetts Oysters, Maine Brewing Company with Maine Lobsters , Rogue Ale with Washington State Oysters, or whatever combination we can think of.
Max Burger in West Hartford will be offering 1/2-Priced Cans for Thursty Thursdays @ Max in February.  C'mon in and take your pick of any of our canned brews and get them at a 50% discount, all day and all night.  The canned beer has made a huge return among craft brewers in the past few years as many people have discovered that fresh beer really does taste better this way.  One of the most damaging things for beer is light and the can provides the perfect vehicle for getting all the flavor the brew master intended to your glass (or just from the can).  We agree and we also like the fact that this is a lighter and more eco-friendly way to transport beer.  We have a growing selection of great canned brews fro across America, so join each each Thursday in February to taste your way around the canned section.
Trumbull Kitchen in Hartford will be featuring a Blue Agave Maragarita & Tapas for $6. The TK classic El Jimador Blue Agave Margarita (one of our most popular drinks from the catalog), pair it with Chef Torla's  Pueblan-style Mole Poblano – tortillas, pumpkin seeds, queso fresca. All for $6, this Thursday.  We love making tequila drinks and El Jimador is a great selection which we use for our standard drinks selection – it is made from 100% Blue Agave, and has a rich, salty, smokey taste, perfect for making classic styled margaritas.  This drink has a touch of blue in it to add a twist to the classic.  Perfect for the Mole Poblano.
Max Burger in Longmeadow, Ma, will be holding a Specialty Brew Tap Night, for Thursty Thursdays @ Max in February.  This week's tapping will feature the very special and rarely offered Founders Brewing Imperial Stout, and imposing creature at 10.5% abv, but a great treat on a cold night like tonight in Western New England.  Brewed with ten varieties of malted barley, this stout is smooth as silk, yet complex and rich in body.  We will be tapping at 5 pm, so come in and treat yourself to one of the finest Stouts in America from one of the top American craft brewers.
This week's top deals and sales : calgary co-op flyer, costco flyer, longos flyer, rexall flyer, shoppers drug mart flyer