Last night at Max Amore Ristorante in Glastonbury, over 30 guests were treated to a fabulous dinner and the wines of two of Italy's favorite winemakers.  Chef Ted Burnett was on his game with a menu that touched on both traditional Italian cuisine as well as influences with a modern twist (see the menu below).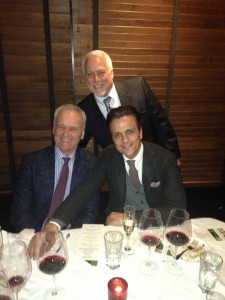 Guests were also treated to wine coming from both the north of Italy as well as the far south.  Starting and finishing with the Prosecco from Primo Franco, a third generation winemaker from the heart of the Prosecco region and his family estate called Nino Franco Winery.  Delicious wines that, as Primo pointed out, "are a way of life and can be great anytime of the day or night as they are light and refreshing".
In between guests were treated to the deliciously fruit driven wines of Diego Cusumano from Sicily.  From the youthful and value priced Nero d'Avola (a wine featured on the Max Amore wine list) to the fabulous blend of Nero d'Avola and Syrah called Benuara, to the final wine, a 100% Nero d'Avola called Segana, which is sourced from the best vineyards at Cusumano Winery, these wines were as good as it gets.
Next up at Max Amore, Chef Burnett teams up with Max Restaurant Group Beverage Director Brian Mitchell to present a Max Wine & Food School Seminar, theme: Regional Italian Wines and Cheeses.  Feb 11th.  See the Max Restaurant Group website Calendar for full details.
Primo Franco
head of the famed Prosecco house in Venuto, Italy
NINO FRANCO &
Diego Cusumano
of the respected Sicilian winery
CUSUMANO WINERY
Wednesday, January 23, 2013 – 6:30pm
menu created by Executive Chef Ted Burnett
RECEPTION
Prosecco ~ Rustico Nino Franco
COURSE I
Scallop Crudo
Frescobaldi extra virgin olive oil | sea salt
Cusumano ~ Insolio Sicilia, 2010
COURSE II
Berkshire Black Sopressata
grana padano | rustic crostini
Cusumano ~ Nero D'Avola, 2011
COURSE III
Calamari alla Sicily
kalamata olives | capers | melted anchovies | basil |
San Marzano | toasted polenta cake
Cusumano Benuara ~ Nero D'Avola, Syrah, 2010
COURSE IV
Five Hour Roasted Duck
sweet fennel Italian sausage | duck fat with house made linguine | ricotta salata
Cusumano Sagana ~ Nero D'Avola, 2008
DOLCE
Cannoli
sicilian impastata ricotta | candied oranges
Prosecco ~ Nino Franco Valdobbiadene, 2009
Take a look at this week's speacials : loblaws flyer, walmart flyer, freshco flyer, no frills flyer, food basics flyer