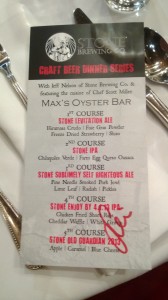 Last night, nearly 60 patrons had the pleasure of enjoying a fabulous meal and presentation at Max's Oyster Bar in West Hartford.  Chef Scott Miller went all out with a round the world assortment of dishes that played off the flavors and styles of the strikingly good brews from Stone.
As our guests entered everyone was given a pretzel lei to enjoy and nibble on while the rest of the guests arrived.
First course was paired with the Stone Levitation Ale, a fabulous style that is a bit easier on the alcohol at 4.5% abv, but big on flavor with rich maltiness and fresh citrusy hops.  Chef Miller paired this with a Hiramasa Crudo (King Fish) with some foie gras powder and freeze dried strawberries.  Our guests knew they were in for a treat last night after seeing this dish.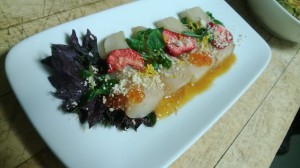 Coming up next from Stone was the Stone IPA, really their flagship brew and one that is easily identifiable as a classic.  This beer is what IPA, especially West Coast IPA lovers, are looking for.  Full on hops with a smooth undertone of maltiness.  At 77IBUs there is nothing shy about this, but it drinks great and you are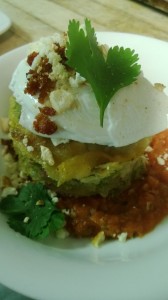 usually not aware of the 6.9% abv.  Chef Miller paired this with a take on a classic Mexican dish called a Chilaquiles, a dish often served in the morning or for brunch as its often meant to use up left-over tortillas and other ingredients.  This was a perfect foil for the Stone IPA, though and with the addition of a soft boiled egg, its was just decadent enough to make you feel really good.  Smoked chorizo was a nice touch as well.
For the third course, the Stone Sublimely Self Righteous Ale was up, and this is one of the fan favorites.  At 8.7% abv and 90 IBUs, there is nothing really being held back with this brew.  Full on hop aromas, rich malt and nutty flavors, though surprisingly clean drinking for such a big brew.  Chef took this intensity of hops in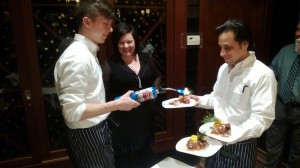 the beer and played off that with a little twist that complimented the flavors and tingled the senses.  Pine needle smoked pork jowl with some lime and an assortment of Vietnamese styled pickles, plus just as the dish was to hit the table we flamed the fresh pine needles to boost the aromatics even more.  Fabulous aromas and taste with this dish.  The whole room smelled of smoky, woodsy pine and hops.
For the entree course guests were treated to a unique take on the "Chicken Fried Steak", where Chef Miller took a short-rib and wrapped it in chicken skin before cooking.  Bringing the crispness of fried chicken and the richness of well braised short rib together in one satisfying bite.  With the addition of a southern waffles and white gravy, the dish was full-on delicious and flavorful.  For this dish we poured full pints of the Stone Enjoy By 4.10.13, a limited release ale that is only available for a very limited time and then it is gone for good.  Bright and hoppy, this was a smooth and crisp style and paired perfectly with the chicken fried ribs.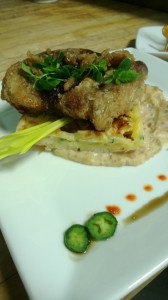 I think for me the favorite dish of the evening had to be the last.  This was such a  great combination and both the beer and the dessert were better for the flavors in each.  Chef Miller put together this decadent, but easy to eat combination of baked apples, Caramel and Rogue Creamery Rogue River Blue cheese that was visually and flavor-wise delicious.  The caramel tuile made this look like a million dollar dish, and the taste was right on. Paired wit the Stone Old Guardian 2013, a barley wine style ale clocking in at 11.4% abv, the combination was the perfect way to end a fabulous dinner.  The cheese was perfectly light and heavy at the same time while the beer was sweet and biting.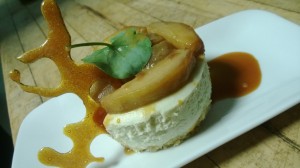 If you happened to miss this event, Max Restaurant Group will see Stone Brewery again at the Trumbull Kitchen Brewfest on March 16, in Hartford and then again with Wednesday Sampler night at TK in April.  Jeff from Stone always brings out limited and small production stuff when he comes in so don't miss these great events.
Take a look at this week's speacials : loblaws flyer, walmart flyer, freshco flyer, no frills flyer, food basics flyer